Betty June Miller
of North Little Rock, AR, 1926 - 2019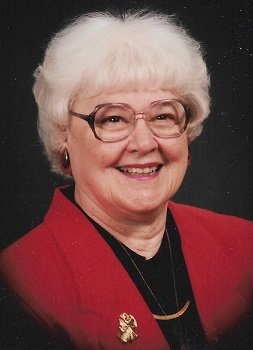 Betty June Miller, age 92, of North Little Rock, Arkansas, died January 19, 2019. She was born on June 21, 1926 in Springfield, Missouri to the late James and Maude Cole. She is predeceased by her five siblings and her husband James R Miller. Betty and James were married on her 20th birthday, resided in Springfield, Mo. until 1983 when they moved to Arkansas, and celebrated their 50th wedding anniversary together in 1996.
Betty is survived by her daughter, Becky Miller Rice, her granddaughter, Meghan Miller Rice (Avi Levine), and several nieces and nephews.
She was a member of St. Luke's Episcopal Church, NLR, since 1984. In the past, she was active in St. Luke's Episcopal Church Women (ECW) and volunteered at St Luke's Respite Care Center for over 12 years. Betty was a devoted wife, mother, grandmother, and friend. She will be remembered by her family and friends for her quick wit, her smile, and the fact she never met a stranger.
The family wishes to express special gratitude to the staff at Sherwood Nursing Home and Rehab Center and Kindred Hospice Care for their excellent care, compassion, and unconditional love for Betty over the past 4 years.
The funeral will be Saturday January 26, 2019, at 11 a.m. at St. Luke's Episcopal Church, 4106 J.F.K. Blvd. in North Little Rock. The officiant will be Father Carey Stone. Prior to the service, the family will receive visitors in the chapel at St. Luke's from 10-11 a.m.
In lieu of flowers, donations in Betty's memory can be made to St. Luke's (4106 J.F.K Blvd., North Little Rock, Ark. 72116| http://www.stlukeepiscopal.org/) or to CARE: Central Arkansas Rescue Effort for Animals (P.O. Box 7604, Little Rock, Arkansas 72217|http://www.careforanimals.org/memorial-gifts.cfm). Arrangements are by Ruebel Funeral Home, www.ruebelfuneralhome.com.
Published January 23, 2019
OBITUARY SUBMITTED BY:
Ruebel Funeral Home
6313 West Markham Street, Little Rock, AR
Phone: 501-666-0123
http://www.ruebelfuneralhome.com