Howard Ashley Ted Bailey Jr.
of Little Rock, AR, 1924 - 2019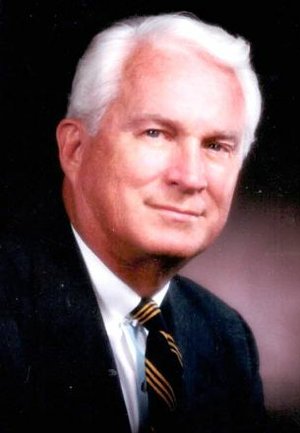 Howard Ashley Ted Bailey Jr., of Little Rock, passed away on January 21, 2019. He was born in Little Rock on July 12, 1924 to H.A. Ted Bailey, Sr. and Madeline S. Bailey. He was preceded in death by his parents; his first wife, Virginia Mitchell Bailey; his brother, William Stanley Bailey; and his sister, Martha Bailey Dixon.
Ted is survived by his wife, Sharon Bailey; and by his five children, Mary Maude Shafer (Robert), Ted Bailey, III, Jo Bailey McCray (Kevin), John Bailey (Jan), and Amy Madeline Bailey. He is also survived by his 23 grandchildren, Laura Shafer Sanders, Catherine Shafer Paulus, Philip Shafer, Sarah Shafer, Ben Bailey, Teddy Bailey, Ali Hart, Barrett Bailey, Virginia McCray Musselman, Jason McCray, Mitchell McCray, Ellianna McCray Temple, Melissa McCray, James McCray, Emily McCray, Elizabeth McCray, Rachael Bailey Oberste, Erik Bailey, Eddie Bailey, Rebecca Bailey, Colton Wilkins, Mary Henry, and Johnny Henry; and by his 20 great-grandchildren, Virginia and George Sanders; James, Lillie, and Luke Paulus; Lucy Sells; Presley and Neely Bailey; Ashley Bailey; West and Scarlet Hart; Eliza Jo Musselman; Yzabelle McCray; Henry and Charlie Oberste; Miles Bailey; Eva, Jack, and Tripp Rector; and Elle Bailey.
Ted graduated from Little Rock High School and received his M.D. degree from the University of Arkansas School of Medicine. He served as a medical officer in a U.S. Naval hospital during the Korean War. He began his private practice in otolaryngology, but primarily practiced otology in Little Rock for over 40 years, being the first physician in Arkansas to limit his practice to otology. He was also the first physician to open an outpatient surgery center in the state. He was a pioneer in stapedectomy surgery, with one of the largest series in the United States, and developed new instruments and techniques for the procedure. He was also the first ear surgeon in Arkansas to perform cochlear implant surgery. Countless patients over these years owed their hearing to Dr. Bailey.
Ted's excellence as an ear surgeon was widely recognized. He was a clinical professor of otolaryngology at UAMS throughout his career and was head of the Division of Otolaryngology for 10 years. He served as the chief of staff at Baptist Hospital. He was a diplomate of the American Board of Otolaryngology and a member of numerous state, national, and international medical societies. These included the American Academy of Otolaryngology, the American Otological Society, which Ted served as president, the Triological Society, and the Deafness Research Foundation. Ted founded the Ear & Nose-Throat Clinic in Little Rock, now the Arkansas Otolaryngology Center, and served as its president and physician administrator until his retirement. He was the author or co-author of approximately 40 articles in the field of otology.
Ted had a wide range of interests and talents. He was an avid tennis player and was the state seniors champion for 10 years. He served in various capacities in the U.S. Tennis Association and the Arkansas and Southern Tennis Associations. He was the chairman of the USTA's Olympic committee when tennis became an Olympic sport. He was the chairman of the board of the Arkansas Tennis Patrons Foundation. He was inducted into both the Arkansas Tennis Hall of Fame and the Southern Tennis Hall of Fame.
Together with his late wife, Virginia, Ted founded Bailey Corporation, a real estate development and management company that developed the Foxcroft, Foxcroft Square, St. Charles, Andover Square, and River Bend residential properties in Little Rock. He was the chairman of Bailey Timberlands with tree farming operations in Arkansas and Louisiana. He was the president of the Bailey Foundation, which provides charitable support for medicine, education, the arts, and Christian ministry. He was the finance chairman for the Billy Graham Crusade in Little Rock in 1989. In 1994, he and Virginia shared the Philanthropist of the Year award from the Arkansas Chapter of the National Association of Fund Raisers.
Ted served on the boards of directors of numerous other organizations, including the Little Rock Chamber of Commerce, Union National Bank in Little Rock, Worthen Bank in Little Rock, the United Way, the YMCA, the Little Rock Boys Club, the Arkansas Arts Center Foundation, the Baptist Health Foundation, the UALR Foundation Fund Board, and the UALR Board of Visitors. Ted served a term as president of the Little Rock Rotary Club and was a member of the club for over 60 years. Through the gift of his time, expertise, and financial support, Ted was a model of generosity and civic engagement.
Ted was a great man of many accomplishments. Yet in all that he achieved, he lived with deep honor, exemplary character, devotion to Christ, and love for his family and friends. He was innately optimistic and had an unusual ability to influence other people for good. He was proud of his achievements that received only small or private acclaim, such as his 12-year record of perfect Sunday School attendance as a young man. He rejoiced in the successes of his children and grandchildren. The lives of many were touched and made better because of him, and all who knew him will miss him dearly.
A reception will be held at the Country Club of Little Rock, 4200 Country Club Boulevard, from 4 to 6 p.m. on Friday, January 25, 2019. A private burial will be held on Saturday, January 26, 2019 at Roselawn Memorial Park in Little Rock. Memorials may be made to the UALR Bailey Scholarship Fund, the UAMS Bailey M.D. Fellows Scholarships, or Trinity Cathedral in Little Rock. Arrangements are under the direction of Ruebel Funeral Home, www.ruebelfuneralhome.com.
Published January 23, 2019
OBITUARY SUBMITTED BY:
Ruebel Funeral Home
6313 West Markham Street, Little Rock, AR
Phone: 501-666-0123
http://www.ruebelfuneralhome.com