Delores Elizabeth Wiederkehr
Altus, AR, 1928 - 2019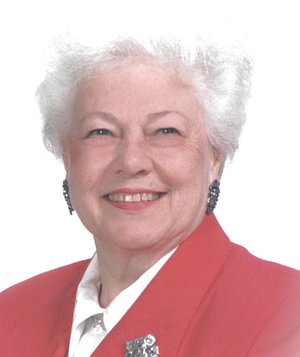 Delores Elizabeth Wiederkehr, age 90 , of Altus, Arkansas died Sunday, July 7, 2019 in Altus. She was our beloved, gentle, kind, creative, joy spirited, faithful, mother, grandmother, and great grandmother. Delores had a magical aura that was felt by everyone who knew her. She was born October 15, 1928 in Hartman, Arkansas to John and Marie Eveld Plugge. Delores lived in the Altus/Hartman area her entire life; she was of the Catholic Faith, a member of St. Mary's Catholic Church and the Mother's Society. Delores was a member of Beta Sigma Phi, Extension Homemakers, and the Fred Astaire Dance Studio. She was preceded in death by her parents; her husband, Leo J. Wiederkehr; a son, Mark J. Wiederkehr; and four brothers, Ralph, Gilbert, Wilfred and Roman Plugge.
She is survived by six children, Gary Wiederkehr and wife Vickie, Gail Clark and husband C.L., Brenda Wiederkehr and husband Joe Power, Barbara Culver and husband David, Marcia Wiederkehr, and Kevin Wiederkehr and wife MeLissa; a sister, Estella Hilton; a brother, Richard Plugge and wife Betty; brother-in-laws, Matthew Wiederkehr and wife Bobbie; Al Wiederkehr and wife Linda; sister-in-laws, Emily Schroeder and husband Bernard, Rebecca Wiederkehr and husband Lee Potts, Delores Neumeier and husband Don, Toni Plugge and Shirley Plugge; 14 grandchildren, Brian Wiederkehr and wife Monica, Adam Wiederkehr, Kristen Sharum and husband Jerry, Ashley Clark, Corbet Clark, III and wife Bethany, Brad Culver and wife Jessie, Ben Culver and wife Ashley, Joel Tyler, Courtney Thomas and husband Ryan, Ali Tyler, Luke Tyler, Katja Wiederkehr, Daria Wiederkehr, and Cass Wiederkehr; and 14 great-grandchildren, Lauren, Andrew, and Malorie Wiederkehr, Sam, Marcus, and Katie Sharum, Leo and Etta Clark, Kayla, Holly, Dean, and David Culver, and Eila and Everett Thomas.
Funeral Mass will be held at 11 a.m. Saturday, July 13, 2019 at St. Mary's Catholic Church in Altus with Father Jerome Kodell, OSB, and Father Pius Ajunwa, LWU, officiating, and interment at St. Mary's Cemetery. Rosary will be be held at 7 p.m. Friday, July 12th at St. Mary's Catholic Church in Altus.
Serving as pallbearers are Brian Wiederkehr, Adam Wiederkehr, Corbet Clark III, Brad Culver, Ben Culver, Joel Tyler, Luke Tyler, and Cass Wiederkehr. Honorary pallbearers are grandchildren and great-grandchildren and Godchildren.
In lieu of flowers, memorials may be made to St. Jude's Children's Research Hospital, Arkansas Children's Hospital, American Cancer Society, or St. Mary's Restoration Fund. To leave online condolences visit: www.shafferfuneralhomeozark.com.
Published July 11, 2019
OBITUARY SUBMITTED BY:
Shaffer Funeral Home
2315 West Commercial Street Ozark, P.O. Box 680, Ozark, AR
Phone: 479-667-4147
http://shafferfuneralhomeweb.com