Derris Donald Butler
Benton, AR, 1939 - 2019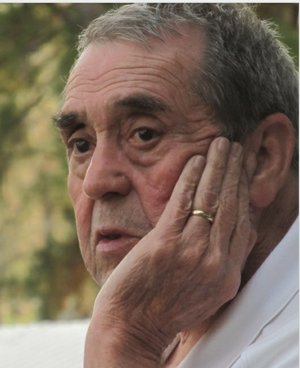 Derris Donald (Duck) Butler of Benton, Ark. (formerly of Hope), passed away in his sleep on Wednesday, July 3rd, 2019. Duck was born Oct 19th, 1939 in Rosston, Ark. to Herman and Cumie Fore Butler. Duck graduated from Bodcaw High School in 1957, and was working as a truck driver for Meyers Bakery in Hope when he spotted a beautiful girl named Nena Dare Walton at the Bobcat Drive-In. He asked her out on a date. Eight months later, he married her, and decided he'd rather stay close to home rather than drive a truck. Because of this one special moment in time, Duck has left behind a beautiful legacy.
After working at Lonestar Ordinance as a Demolition Supervisor, he began his true career as a car salesman, purchasing and running D&S Motor Company in Hope for the next 35 years before he and Nena retired and moved to their Lake Hamilton (Hot Springs, AR) lake house in 2003.
Duck was a gentle, loving, generous and funny man, who adored (and spoiled) his children and grandchildren. He loved to play Gin at the Country Club, enjoyed hunting and fishing at Kelly's Camp, teaching his daughters to ski at Narrows in Murfreesboro, Ark. and his daughters and five grandchildren to play cards. He took his family on countless fun vacations that will never be forgotten. Papaw to his beloved grandkids, Duck taught his family that love is the most important thing of all.
Duck, a member of Union Baptist Church in Bodcaw is preceded in Heaven by his mother and father, his brothers, Milton Butler, Harrell Butler, and his beloved sister, Joyce Helm, his nephew, Keith Helm, Jr and niece, Debbie Abbott. He is survived by his wife of 55 years, Nena Dare Walton Butler; daughter, Janet Kaye Butler Taylor and son-in-law, Phillip Matthew Taylor Sr.; daughter, Jennifer Dare Butler Smith; grandsons, Philip Matthew Taylor Jr. and Parker Mitchell Taylor (girlfriend, Allie Sims); granddaughters, Hannah Dare Smith (boyfriend, Jacob Showalter), Kayley Ann Smith (boyfriend, Justin Edmison), Ava Hope Smith; his brother-in-law, Keith Helm Sr., sister-in-law, Nell Butler, nephews, Steve Butler, Richard Butler, Mike Butler, Kelly Butler, Dennis Terry, Kenneth Terry, and niece, Shelly Butler. Duck will be missed every single day until his family is reunited again with him in Heaven.
Visitation will be held at 1pm at Herndon-Fuqua Funeral Home in Hope, Ark., followed by A Celebration of Life beginning at 2 p.m. If so moved, in lieu of flowers, donations in Duck's name may be made to the Saline Memorial Hospice (23157 I-30 Frontage Rd, Bryant, Ark. 72022). An online guestbook is available at: https://www.herndonfuquafuneralhomes.com/obituary/derris-duck-butler.
Published July 11, 2019
OBITUARY SUBMITTED BY:
Herndon-Pharr Funeral Home
403 South Main, Hope, AR
Phone: 870-777-4686