Willadean Brandon Mackey
of Little Rock, AR, 1932 - 2019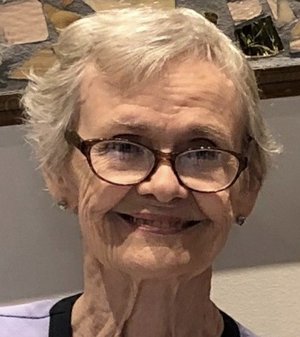 Willadean "Dean" Brandon Mackey, aka Gram, 87, of Little Rock, passed away on July 7th, 2019 following a short illness. She was born to Joseph Henry Brandon and Grace Viola Brandon of Campbell, MO on May 22, 1932. She was married for 67 years to Marcus "Gene" Mackey, who passed away on January 8, 2019. Living in multiple states during Gene's military career, they settled in Little Rock in 1961. They resided primarily in Cammack Village, where she owned a beauty shop behind their Englewood home, retiring at age 78.
She is survived by her children Terryl Mackey, M.D., of Johnstown, Pa. and Mark Mackey of Little Rock, Ark. as well as her grandchildren (great grandchildren), Lauren Licatino (Owen, Henry, Cora Rose – due to arrive next week) of Rochester, Minn., P. Logan Weygandt of Baltimore, Md., Terryn Lawrence (Evelyn, Clara) of Minneapolis, Minn., Nicole Mackey Fijman of Utica, Miss. and Jared Mackey of Little Rock, Ark.
Her greatest joy in life was being with her family. When family and friends were asked about her most endearing qualities, they offered the following: "Constantly exhibited an exuberant smile." "When she smiled, you could almost feel her wrapping her arms around you!" "No matter the situation, her demeanor was always upbeat and witty." "She never met a stranger in or out of her beautician's chair." "She was a woman of quiet faith and dignity and loved all people for who they were." "She was soft of skin, soft in demeanor, but incredibly strong of character." "It really sums it up that she lived in Grace."
A celebration of a life well lived will be held on Saturday, July 13, 2019 at 10 a.m. at Griffin Leggett Funeral Home, 5800 W. 12th Street, Little Rock, Ark., 72204. The family hopes to meet and greet her friends. Attire is casual. Griffin Leggett provides an opportunity to share memories, condolences, support or humor on their website https://www.dignitymemorial.com/obituaries/little-rock-ar/willadean-mackey-8771376.
In lieu of flowers, the family requests with gratitude that memorial contributions be made in her name to Alzheimer's Arkansas, 201 Markham Center Drive, Little Rock, Ark. (website: http://www.alzark.org) or the Alzheimer's Association (website: https://www.alz.org/).
Published July 11, 2019
OBITUARY SUBMITTED BY:
Griffin Leggett Healey & Roth
5800 West 12th Street, Little Rock, AR
Phone: 501-661-9111