Sherry Jones Gibson
Dermott, AR, 1943 - 2019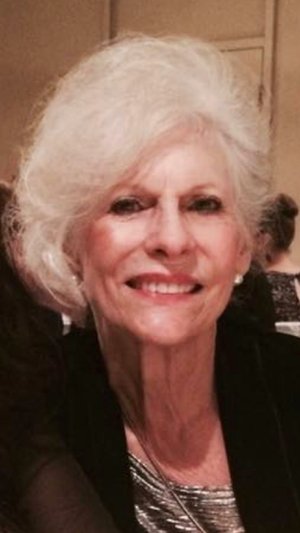 Sherry Jones Gibson, 76, of Dermott, passed away in her home in Dermott, Ark. July 13. She was born in Crossett, Ark. on January 2, 1943 and a proud majorette with the marching band for the Crossett Eagles. Sherry was predeceased by her parents, James (Jimmie) Clyburn Jones and Earl Jones, and her son, Dan. She is survived by her husband of 56 years, Charles Sidney Gibson; daughter, Lisa Fischer (Kris) of Little Rock and Chuck of Little Rock and Dermott and Gina Ware Gibson of Dermott, the mother of her grandchildren. She is survived by her seven grandchildren, Kristen and Charles of Little Rock; twins Madeline of Atlanta and Courtney Gibson Endsley of Dermott; Sidney Fischer Head (John) of Little Rock; Gibson Fischer and Anna Margaret Fischer of Dallas; one great-grandchild, Kameron Kay Head of Little Rock, a brother K. C. Jones (Stacy) of Little Rock and an aunt, Sherwin Skidmore of Dermott.
Sherry's life was characterized by artistic endeavors, breeding and showing her beloved golden retrievers, and even raising horses in her own backyard. Sherry was the one who decorated her house for Christmas in big ways before it was a trend which characterized the way she approached all of her projects. She never did anything in a small way or because other people did it. In the 70s, she got interested in tennis and charmingly convinced the small town of Dermott to build a tennis facility.
She was known for her generous spirit including taking in her 12 year-old first cousin in the 70s whom she raised as her only daughter. She moved Lisa into the boys' bedroom so she could be accommodated with all the things a 12 year- old wanted.
She attracted media attention with her unique style. The Arkansas Gazette once featured her in a fashion segment that showed her status as southeast Arkansas' style icon and quoted her daughter by calling Sherry "the Joan Collins of Dermott."
Sherry was a trail-blazer in everything she did. She started going west to Snowmass at Aspen to take her family skiing in the 70s. She and Charles Sidney even hosted a high school group of students to Crested Butte, Colo., in the early 80s. That's the year the skiing for spring break was known as "mud skiing" due to the warm temperatures.
Once internet access came to Dermott, it gave Sherry an outlet to entertain the world. Her "dog show pals" as she called them were able to chat with SherryLiketheWine on the reg. Her friends even bought the domain name and gave her a website which has since gone dark. She received the moniker "SherryLiketheWine" when her friends would ask her what her name was, and when she answered, she would say, "Sherry, you know, like the wine.
Son Chuck began practicing law with her husband and that brought her so much joy. Chuck's family continued to grow with four children in three years so Sherry was called in often for back-up. Sherry worked at Gibson Law Office for years as a helper for the Gibson men, but she probably spent more time getting to know the clients than actually preparing legal briefs.
Her legacy is her unique style and her fierce loyalty to her husband and children. In a battle, you'd want SherryLiketheWine by your side.
Arrangements are pending and will likely be held at the Dermott Presbyterian Church where Sherry had been a member since she moved to Dermott after her husband finished law school in 1970. Arrangements by Griffin-Culpepper Funeral Service of McGehee, Ark. Online guest book may be signed at www.griffinculpepper.com.
Published July 15, 2019
OBITUARY SUBMITTED BY:
Griffin Funeral Services
105 North 2nd Street, P.O. Box 319, McGehee, AR