Bruce Gray Sharp
of Little Rock, AR, 1933 - 2019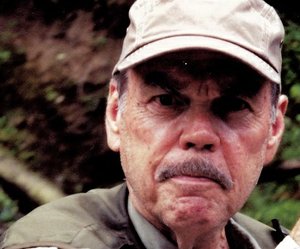 Bruce Gray Sharp was born on July 8th, 1933 and died on his birthday 86 years later. He was an artist who led an adventurous life, painting in fantastic detail, more like Remington or Russell than Warhol or Pollock – and different from most of the known artists in that he never desired the spotlight, never claimed to even be an artist, but his work spoke for itself to those fortunate enough to acquire an example.
Bruce was born in England, Arkansas, where he graduated from high school in 1951. His mother was named Ruth Gray Sharp, his father was William Parker Sharp Sr. and he had two brothers, William "Bill" Parker Sharp, now deceased, and Robert "Bob" Lawrence Sharp, of Sherwood.
He was a veteran, having enlisted in the United States Army and serving two years in Germany at the end of the Korean War. Bruce returned to finish his college education at the University of Oklahoma, Norman, Oklahoma, and received his BFA (Bachelor of Fine Arts) in the late 1950's. He then began employment with "The Dallas Morning News" and in 1963 found himself in the massive turbulence which surrounded the assassination of President John F. Kennedy. He was a reporter assigned to the case and on duty when Jack Ruby murdered Lee Harvey Oswald amid a throng of reporters. Later, he returned to Arkansas and eventually became head of art and graphics for the various and voluminous publications of the Arkansas Health Department. He worked that job for 21 years. Bruce was an avid outdoorsman who especially loved duck hunting on the Big Ditch. He went something like 18 years hunting wild turkeys, before having to give it up, with only one killed – although he would still get angry if that was ever pointed out. For approximately 40 years he gathered a few times each week with a group of friends and admirers, first at the After Thought and then at Ciao Baci. Bruce left instructions that Mary Healey, his caregiver at Andover Place, should be recognized because she did so much for him in the last part of his life. And for many years now, there has been a friend who defines the rafters, an absolutely loyal friend and hunting buddy named Steve Brooks. A quiet and extraordinarily talented man is now lost.
Graveside services and burial will be at the Arkansas Veterans Cemetery, 1501 West Maryland Ave., North Little Rock on Monday, July 22 at 1 p.m. Arrangements by A Natural State Funeral Services, 2620 West Main Street, Jacksonville, Arkansas. 501-982-3400.
A special "happy hour" for friends will be at Ciao Baci, 3846 Beechwood, Little Rock on Wednesday, July 24 from 4:30-6 p.m. Help us celebrate Bruce's life. His online guestbook is available at www.anaturalstatefuneralservice.com.
Published July 19, 2019
OBITUARY SUBMITTED BY:
A Natural State Funeral Service
2620 West Main Street , Jacksonville, AR
E-mail: anaturalstatefuneralservice@gmail.com
Phone: 501-982-3400