Ryan Price Barnes
Fayetteville, AR, 1978 - 2019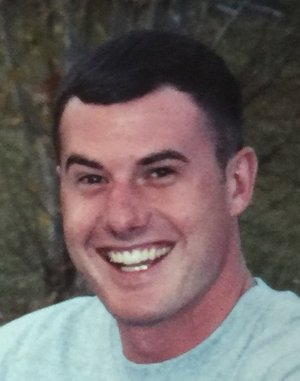 Ryan Price Barnes, 40, died suddenly on July 15 at his home in Fayetteville, Ark.
He was born on October 4, 1978 in Joplin, Mo., and attended elementary school in Anderson before moving to Bella Vista, Ark., and graduating from Bentonville High School, class of '97. He loved collecting baseball cards, golf, cooking, having fun with friends and had the best sense of humor, always the comedian.
Ryan worked as a landscaper until joining the Army in 2002. He served as a combat medic and received commendations for his bravery and dedication while participating in Operation Enduring Freedom in 2003 and Operation Iraqi Freedom in 2005. His discipline and patriotism were recognized by friends and family during his time of service to our country. To his brothers and sisters in arms, he loved you. There is a bond that continues even though he is no longer with you, never forget.
Ryan was the only child and is survived by his parents, John and Melee Barnes of Bella Vista, Ark. Also, Kelly Barnes, the Mother of his three beautiful children, Brooklyn Barnes of Rogers, Ark., and Will and Jack Barnes of Centerton, Ark. In addition, he is survived by his grandparents Bill and Linda Barnes, of Anderson, Mo., and his grandmother Sally Whittenberg, of Bentonville, Ark.
A memorial graveside service for Ryan will be held on Friday, July 26 at 11 a.m. at the Fayetteville National Cemetery, 700 Government Avenue, Fayetteville, Ark. After the service, friends and family can gather at the American Legion Post 27, 1195 Curtis Avenue to celebrate Ryan's life and talk about the good times.
The family's request, and we know Ryan would approve. In lieu of flowers, we are asking you to make an online donation to the Regional National Cemetery Improvement Corporation at www.rncic.com. Without this organization, the national cemetery will run out of land and that is unacceptable. Please visit their website and see what they have accomplished, you will be proud.
Published July 21, 2019
OBITUARY SUBMITTED BY:
Bella Vista Funeral Home and Crematory
2258 Forest Hills Blvd, Bella Vista, AR
E-mail: office@funeralmation.com
Phone: 479-855-1611