Helen Griffin
Harrison, AR, 1926 - 2019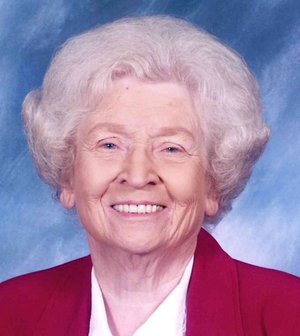 Helen Griffin, 93 of Harrison, Arkansas, passed away Tuesday, July 23, 2019 at the Willard Walker Hospice House in Fayetteville, Arkansas.
The daughter of Coy Thomas and Bertha Opal (Gregg) Sullivan was born at Leslie, Arkansas on June 29, 1926.
Helen worked as an Allstate Insurance Agent for 47 years, retiring in 2010 at age 84. She was hired in 1963, and was the first woman hired by Allstate as an agent.
She was preceded in death by her husband, William H. Griffin. Helen is survived by her children and their spouses, Cathy and Paul Stephenson of Marshall, Cheryl and John Hodges of Burlington and Mark and Debbie Griffin of Bentonville; her grandchildren and their spouses, Kimberly and Landry Weston of Berryville, Tory and Mark Lewis of Paramaribo, Suriname, South America, Ashley Helen and Pierce Warren of Tulsa, Okla. and Kaleb Osborn of Talala, Okla.; five great-grandchildren, Bethany, Ava, Levi, John and Nora; and numerous nieces, nephews, extended relatives and many friends who loved her and will miss her dearly.
Funeral services will be held at 10 a.m., Friday, July 26, 2019 at Coffman Funeral Home Chapel in Harrison with Pastor Rob Davis officiating. Burial will follow at Marshall Memorial Gardens in Marshall, Arkansas. Visitation will be Thursday from 5-7 p.m. at the funeral home.
In lieu of flowers, donations can be made to First Baptist Church, Harrison, Ark. or Gideons International. On-line condolences may be left at www.coffmanfh.com.
Published July 25, 2019
OBITUARY SUBMITTED BY:
Coffman Funeral Home
501 Old Bellefonte Road, P.O. Box 2418, Harrison, AR
E-mail: coffmanfh1@windstream.net
Phone: 870-743-2021