James Faulk (Jim) Hinton Jr.
Fayetteville, AR, 1938 - 2019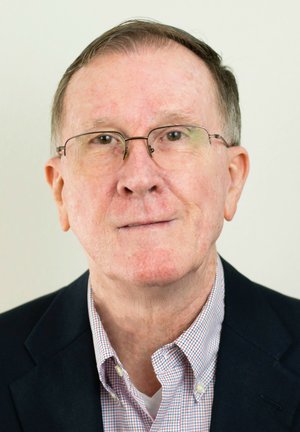 James Faulk (Jim) Hinton Jr., age 81, passed away on July 20, 2019, in Fayetteville, Arkansas. He was born on May 5, 1938, in Bessemer, Alabama, to James Faulk Sr. and Ouida Elva (Pickle) Hinton.
Jim received a B.S. degree (1960) from the University of Alabama, and a M.S. (1962) and Ph.D. (1964) from the University of Georgia. He joined the Department of Chemistry, University of Arkansas in 1964, where he retired as University Professor in 2016. He was recognized as an excellent teacher, mentor to 26 Ph.D. students and outstanding researcher in the field of NMR.
Following retirement, he continued his interests in music, travel, writing, Bible teaching and gardening. He also became a "kid taxi driver" for his local grandchildren.
He joined University Baptist Church in 1965 and remained a committed and active Christian throughout his life. He taught a Sunday school class for 53 years and was appreciated by many as an outstanding Biblical scholar.
He is survived by his wife, Barbara Elizabeth Hinton; three sons, James David (Dave) Hinton, Robert Edward (Bob) Hinton and Thomas Wade (Tommy) Hinton; their children, Zara Elizabeth Hinton, Jacob Cash Hinton, Alana Joy Hinton Hunt, Katherine (Kate) Ellis Hinton and Connor Andrew Hinton; his extended family includes Cindy Bivins of Hattisburg, Mississippi, and Wilbur Hal (Skip) Hinton and Barbara Moon Hinton of Columbia, South Carolina, and their families.
A visitation will be held from 4–6 p.m. on Friday, July 26, 2019, at Nelson-Berna Funeral Home in Fayetteville. A funeral service will be held at 10 a.m. on Saturday, July 27, 2019, at University Baptist Church located at 333 W. Maple Street, Fayetteville, Ark. 72701. Interment to follow at Fairview Memorial Gardens in Fayetteville.
In lieu of flowers, memorials may be made to Walker Hospice House at https://www.wregional.com/hospice/willard-walker-hospice-home. To place an online tribute, visit www.nelsonberna.com.
Published July 25, 2019
OBITUARY SUBMITTED BY:
Nelson-Berna Funeral Home and Crematory
4520 North Crossover Road, P.O. Box 8982, Fayetteville, AR
Phone: 479-521-5000
http://www.nelsonberna.com