Richard Turner Jarrell
Hot Springs Village, AR, 1933 - 2019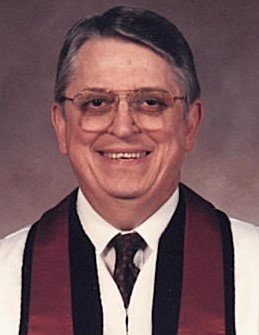 Richard Turner "RT" Jarrell, 85, of Hot Springs Village was doing God's work as a minister since 1955, until God welcomed him home on July 22, 2019. He was born in Wichita Falls, Texas to the late Clifford Jack and Mary Margaret (Stewart) Jarrell.
RT Jarrell spent his life in service to others; he loved people. He loved Jesus. The story of his life was written in chapters that were centered around the churches he led for over 49 years. In 2004, Christ of the Hills United Methodist Church honored him with the title Pastor Emeritus. This affirmation filled the final years of his life with great joy. His greatest pleasure was investing his life and resources in his family, other pastors, and local churches he served. He will be remembered for his compassion, his sense of humor, patience, and great hugs. His loving influence will be missed. His life was a blessing.
He is preceded in death by his parents; brother Jack Jarrell; and great-grandson, Micah Scott Kester. Survivors include his wife of 66 years, Dejuana Jarrell of Hot Springs Village; sons Richard Jarrell of Hot Springs Village, Jack Jarrell (Laura) of Woodinville, Wash.; and David Jarrell (Joy) of Kent, Wash.; daughter, Sharon Kester (Jerry) of Olympia, Wash.; 10 grandchildren and three great-grandchildren.
Visitation will be held on Tuesday, 12:30 p.m.- 2 p.m. at Christ of the Hills United Methodist Church in Hot Springs Village with service immediately following at 2 p.m. Rev. Sieg Johnson, Rev. Jerry Kester, Rev. Sheila Jones, and Rev. Carol Stewart will be officiants and burial will be held at Cedarvale Cemetery in Hot Springs Village.
Pallbearers include Richard Jarrell, Jack Jarrell, David Jarrell, Adam Jarrell, Wayne Jarrell, and Jerry Kester. In lieu of flowers, memorials may be given to the Memorial Fund at Christ of the Hills United Methodist Church. Guests may register at www.caruth-hale.com.
Published July 26, 2019
OBITUARY SUBMITTED BY:
Caruth-Hale Funeral Home
155 Section Line Road, Hot Springs, AR
Phone: 501-525-0055
http://www.caruth-hale.com