Trella Faye Vowell Rogers
Paragould, AR, 1930 - 2019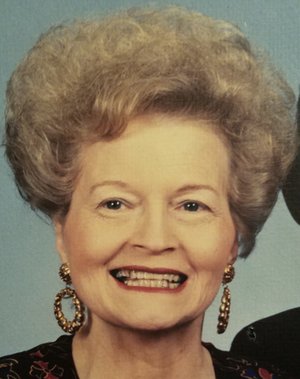 Trella Faye Vowell Rogers, 88, of Paragould, passed away June 6th at Pleasant Valley Nursing Home in Little Rock, Arkansas. She was born September 26, 1930, in Knob, Arkansas. She was a longtime member of First Baptist Church in Paragould and enjoyed working in the nursery.
She is survived by: sons and daughters-in-law, Rhys and Debbie Rogers of Little Rock, and Regan and Tracy Rogers of Springdale; grandchildren, Mattie Rogers Baker and Kevin of Little Rock, Hunter Rogers of Springdale, Tawny Rogers Hall and Neal of Springdale, Benjamin Rogers and Becca of Ward, and Claire Rogers of Dallas, Texas; great-grandchildren, Reese and Bishop Baker of Little Rock, and Baby Boy Hall of Springdale due in October. She was preceded in death by her husband of 46 years, Ben Rogers; her parents, Luther and Jewel Huckaby Vowell; one sister, Deloes Horton; one brother, Lowell Vowell; one infant sister; and one infant brother.
Visitation will be Saturday, June 8th from 6 to 8 p.m. at Mitchell Funeral Home of Paragould. Funeral services will be Sunday, June 9th at 2 p.m. at Mitchell Funeral Home. She will be laid to rest at Linwood Cemetery next to her husband, Ben, immediately following the funeral services. Pallbearers will be Hunter Rogers, Benjamin Rogers, Kevin Baker, Neal Hall, Nick Terry and Randy Cooper.
Published June 8, 2019