Shirley Ann King
Searcy, AR, 1935 - 2019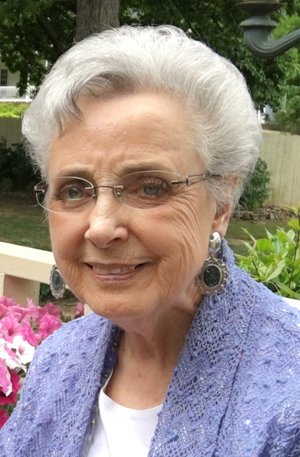 Concluding a life of faith and love, Shirley Ann Hays King left this earth on June 15, at the age of 83. When she closed her eyes the last time she did so with no fear. She was confident that at the end of this journey she would waken to be welcomed by her Father and to be reunited with the love of her life, her friend, her partner, Jimmy.
Sixty-five years ago, Shirley and Jimmy vowed before God and their fellow man, "'til death do us part". They honored that commitment until the union was breached by Jimmy's death in 2017. His leaving was the beginning of hers.
Shirley lingered in this world, armed with her unwavering hope and courage, but her body faltered and her strength diminished. In the years that remained in her life, she was comforted and cared for by her best friend and sister, Reta and her beloved son, Stan.
She believed in prayer and practiced it with everything. A woman of deep and abiding faith, she never took the blessings of her life for granted. From a large, close, loving family, she learned that having ones to love surpassed being loved. She was forever grateful for her treasured friend, Ada Lewis. She cherished her church family over the years.
She was devoted to her husband and to her son; never putting herself before her consideration for them. The roles of wife and mother defined her. Home was open and welcoming. Children and friends through Stanley's college years were drawn by her warmth and hospitality.
The three of them, the King family, reached beyond their circle and contributed to their church and their community. The heart of that inclusion was Shirley. She was certain that every blessing was to be shared and that they were bound by the responsibility to care for what they were given, to be good stewards.
As a young woman, she left her home in Plainview, armed with a fresh diploma, to take responsibility for herself. She had been a dutiful daughter, a good sister, and good student. With a command of numbers, perfect Parker penmanship, and excellent business English, she began at Strother Abstract.
Walking home from work in a downpour one day, Jimmy king offered to drive her home and thus began a romance that lasted a lifetime. Shirley was a beautiful young woman and she was cherished from that day forward.
Shirley became a valued member of the staff at the Agricultural Stabilization and Conservation Service. She remained there until, along with Shirley's sister Dorothy and her husband, Coolidge, they established King and Nier Furniture, later to become King Furniture.
The two of them, Shirley and Jimmy, had a fine grasp of business and an incredible work ethic. They established a coveted reputation in the community and their integrity and hard work provided for them until their retirement. Their true partnership insured their survival and their success.
Shirley will not be forgotten. We will remember her as always stylishly dressed, as fresh at day's end as at its beginning. It was not a matter of pride, but simply presenting her best to the world. Her smile was a special light.
Genuine, honest, unpretentious, she might have a final word for all of us . . . "pray about it."
Shirley is survived by her son, James Stanley King and her sister, Reta Carol Hays Lewis. She was predeceased by her husband, Jimmy; her parents, Edward and Flossie Hays; her brothers and sisters, Lillian Moss, Cleo Lawson, Geneva Jorden, Julian Hays, Redus Hays, Gene Hays, Dorothy Nier, Lois Morris, Dayton Hays and Donnie Hays.
Memorials can be made to West Race Baptist Church Music department. The memorial service will be at West Race Baptist Church, 1009 West Race, Searcy on Tuesday at 11 a.m. Entombment will follow at White County Memorial Gardens. Penned by family friend, Mrs. Beverly Hogan. www.powellfuneralhome.net.
Published June 18, 2019
OBITUARY SUBMITTED BY:
Powell Funeral Home
2602 W Beebe Capps Expressway, Searcy, AR
Phone: 501-268-7220
http://www.powellfuneralhome.net