Hubert Lucky Page
of Little Rock, AR, 1926 - 2019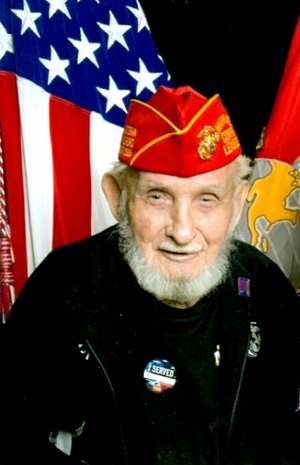 Herbert "Lucky" Page went home to be with our Lord on June 7, 2019. He was born on September 21, 1926.
He is preceded in death by his wife, Monnie Page. He is survived by his three sons, Randy (Esther) Page, Rusty (Angel) Page, Rob (Sheila) Page and daughter Nina Page (Todd) Pemberton. Grandchildren Sarina Cunningham, Shannon Brodhacker, Christina Coffman, Eric Coffman, Whitley Page, Allison Page. Great Grandchildren Paije Meives, Dane Casteel, Jaycob Meives, Anna and Parker Coffman, Joey, Lucy and Howard Brodhacker, David, Tammy, Scott, Nick and Chase Jackson, and so many more friends and loved ones.
"Lucky" Page as he preferred to be called, was a United States Marine and World War II veteran. He was a recipient of 2 purple hearts and many other medals of honor and accolades.
Service will be held Saturday, June 22, 2 p.m. at Griffin Leggett funeral home in Conway off of Dave Ward Drive. This world was a better and brighter place having him in it and will be a little sadder and dimmer with him no longer here.
We as your children honor you, our country needed you and our Lord God chose you. You were much to many... but everything to us. We will carry you in our hearts until we are reunited in glory. Please visit www.griffinleggettconway.com for the on line tribute.
Published June 19, 2019
OBITUARY SUBMITTED BY:
Griffin Leggett Healey & Roth
5800 West 12th Street, Little Rock, AR
Phone: 501-661-9111