William Henry Webster Sr.
Little Rock, AR, 1920 - 2019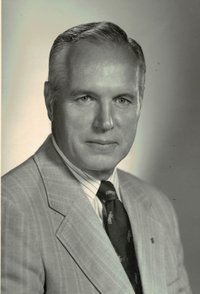 WILLIAM HENRY WEBSTER SR., 98, died Wednesday, June 26, 2019, at his retirement home in Little Rock after a brief illness.
William H. Webster (Citizen Soldier), was born December 12, 1920 in Chicago, IL, the second son of Wm. Henry and Mary Warren Webster. He grew up in the suburb of Hinsdale. He was active in Boy Scouts (an Eagle at 14), National Honor Society and school musicals, was awarded nine athletic letters and was class president.
He attended Cornell University, Ithaca, NY where he played varsity basketball and football, and was a member of Chi Psi fraternity. Having attended CMTC at Ft. Sheridan, IL and college ROTC, he volunteered for pilot training in the Army Air Corps and received his wings and commission on December 12, 1941. After stateside training in attack aviation, he went overseas to Australia and New Guinea in September of 1942 where he flew 42 combat missions in A-20 (Havoc) and B-25 (Billy Mitchell) bombers with the 8th Squadron, 3rd Attack Gp., 5th Air Force. He was shot down twice but survived each time with only minor injuries and burns. Awarded Silver Star, two Air Medals, two Purple Hearts and six campaign citations. After he completed his tour of duty, he was sent home in December 1943. After recovering from malaria, he spent the next two years with assignments as B-25 instructor pilot at Randolph Field, Base Operations Office at Waco and Aircrew Personnel Officer at Training Command Headquarters in Ft. Worth. He was released from active duty as a Major in June 1946.
He began his business career in July 1946 in the securities business and later the securities side of banking at National Bank of Commerce in San Antonio. With the strong encouragement of his employer, he continued his flying in the active Air Force Reserves as a squadron commander in Military Air Transport Service in C-47s and C-54s including two summer tours in the Berlin Airlift. Recalled to active duty for the Korean War, he flew C-54s and C-97s as a squadron commander in Pacific Division of MATS. Released from active duty in July 1953, he returned to his banking career in San Antonio where he attended night law school at St. Mary's and three summer sessions at Rutgers Graduate School, New Brunswick, N.J. He was made Senior Trust Officer at NBC in 1958, while simultaneously maintaining his flying proficiency as Deputy Director of Operations for Pacific Division, MATS, flying C-97s and C-124's.
In January 1961 he moved to Louisville, KY, to take the job as the Executive Vice President and Senior Trust Officer of Citizens Fidelity Bank. Again, he was encouraged by the Bank's Board of Directors to stay active in the Air Force Reserves by accepting the appointment as Wing Commander of the Kentucky Air National Guard's 123rd Tac Recon Wing, involving almost 2800 officers and men, four Groups and 50 RB-57's and later RF 101 jets. His promotion to Brigadier General was confirmed by the U.S. Senate in December 1964. After 25 years of active duty and active reserve service, he retired to inactive status in 1966 as a command pilot with over 8000 hours of military flying in multi-engine bombers and transport planes.
In January 1968 he moved to Orlando, FL. to become the co-founder and president of Trust Company of Florida. When it was bought out by a national bank, he and his family moved to Little Rock in August 1969 to become head of the trust department of Union National Bank where he served 16 years until mandatory retirement moved him aside. The next day he took a job as associate director of the United Methodist Foundation of Arkansas and served there from1986 to 2010. His business honors include serving as American Institute of Banking Instructor in various trust courses, two-year term as president of Central Arkansas Estate Planning Council, and a three-year term (1978-81) on the Executive Committee of the Trust Division of American Bankers Association, the first Arkansan to be so selected.
In his 50 years in Little Rock, his civic activities included Chairman of Pulaski Co. Chapter of American Red Cross for two years, treasurer of Arkansas Symphony Orchestra for two years, treasurer of Arkansas Opera Theater for two years, Treasurer of St. Joseph's Home for Children for 25 years, Treasurer of Cammack Village Fire Dept. for 10 years, member of Administrative Board of St. Paul United Methodist Church (and a choir member there for 29 years,) and Rotary Club 99.
An active sports enthusiast, he continued his interest in basketball and football after his playing days were over by working high school, college and military base football and basketball games as a member of Southwest Conference Officials Association 1946-1960. Also, as a member of Country Club of Little Rock, his competitive golfing won him the Senior Championship there for four years in the early 1980's.
In addition to his sports interests, he and his wife Betty were confirmed travelers with over fifty trips to foreign countries. In 2006, he self-published The Fabulous Future Behind Us, his account of their 60 years of travels at home and abroad.
A life-long avid reader, especially of history, he published in 2012 A Vigo Volunteer Writes Home, a book based on his great uncle Henry Warren's Civil War letters home to his family in Terre Haute, IN. In 2016, he was the guest of honor when the Vigo County Historical Society presented in Terre Haute a musical theatre adaptation of his book, including songs from the Civil War period.
He married Betty Alice Baldwin of Muskogee, OK in May 1942 (deceased 2008). They had three children, son Wm. H. Webster Jr. of Little Rock, son Michael W. Webster of Los Angeles, CA (deceased Oct. 1999), daughter Lynn Webster Oram of Auckland, New Zealand, and one grand-daughter, Celeste Oram of San Diego, CA.
In lieu of flowers, his family requests that tributes to his military and civic honors be a gift to St. Paul United Methodist Church Permanent Endowment Fund, which he chaired for 25 years. Its address is 2223 Durwood Rd, Little Rock, AR 72207.
His family invites his friends to a visitation at the Ruebel Funeral Home, 6313 W. Markham, Little Rock, 5-7 p.m., Tuesday, July 2.
His funeral service will be held at St. Paul's United Methodist Church at 2 p.m., Wednesday, July 3. Funeral arrangements are entrusted to Ruebel Funeral Home, please sign the online condolence book at www.ruebelfuneralhome.com.
Published June 30, 2019
OBITUARY SUBMITTED BY:
Ruebel Funeral Home
6313 West Markham Street, Little Rock, AR
Phone: 501-666-0123
http://www.ruebelfuneralhome.com