Maude Faye Cook Montgomery
Hot Springs, AR, 1918 - 2019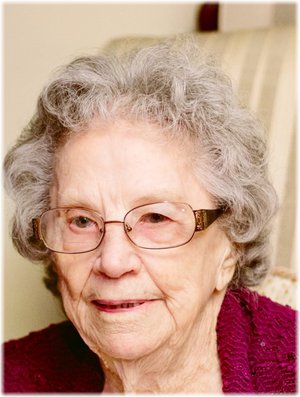 Maude Faye Cook Montgomery passed away on Saturday, March 2, 2019, just three weeks shy of her 101st birthday. Maude was born on March 22, 1918, in Cedar Creek, Arkansas, to Frank and Bess Cook. Along with her parents and five of her siblings, she is predeceased by her husband, Rev. Cecil Montgomery, her son-in-law, Luther Hunter, her first great-grandchild, Spencer McIlroy Hawkins, and her niece, Billye Williams, who she helped raise.
She is survived by her daughters, Valva Montgomery Hawkins (Bill) and Edie Montgomery Hunter of Little Rock; her grandchildren, Drake Hawkins (Melissa) and Dane Hawkins of Little Rock, Luther Hunter, Jr. (Leigh Anne) of Alexandria, Louisiana, and Cecilia Hunter Smith (Kelly) of Fayetteville; her great-grandchildren, Anne-Elise Hawkins Parker (Brad), Walker Hawkins, Hannah Hunter, Kayla Hawkins, Trey Hunter, Peyton Smith, Griffin Hawkins and Avery Smith; her great-great-granddaughter Leighton Hunter and her soon-to-arrive great-great-granddaughter and namesake, Faye McCollum Parker. She is also survived by her sister, Gladys Cook Thompson, and many nieces and nephews.
Maude, or "Gran" as she was affectionately called by her family, grew up in rural Scott County with her six siblings, including twin brother, Claude. She attended Parks Schools where she excelled at basketball (all 5 feet of her!), loved to fish and began collecting life-long friends and giving sage advice. She married Cecil Montgomery, a carpenter and minister, in 1939, and they both worked at the Dierks Lumber Mill in Forester, Arkansas. She cherished the many memories from that time in her life and the town that no longer exists. She was famously known for her quilting, canning, gardening, baking and . . . her sage advice. She had a strong faith and made a supportive partner for her ministering husband. She never met a stranger and made many friends during her 100 years on this earth.
In 1953, Cecil (with Gran's help!) built a house and moved their family to Hot Springs. After her husband's death in 1982, Gran lived independently in that same home for the next 37 years. Though her body was failing from the passing of years, her mind was as sharp as a tack and she continued to share her sage advice to anyone who would sit down with her. She kept up with politics, current events and her beloved Razorback basketball team. Though her hearing and eyesight were poor, she would plant herself about 6 inches in front of her console TV each time the Razorback's played. It is only fitting that they pulled out an exciting win just as Gran was entering the gates of heaven.
Gran was blessed with many friends and neighbors who cared about her. The family would like to thank all of those who blessed Gran's life. From the postman, to the doctors and nurses, to those who delivered meals, to those who mowed her lawn, to those who just called to talk to her – thank you. We especially thank her loving neighbors, Elowe and Carolyn, for their steadfast friendship, love and support of Gran.
Services will be held Tuesday, March 5, at 2:00 p.m. at Martin Funeral Home, Waldron, Arkansas, followed by the burial at Sanders Cemetery. Pallbearers will be Gran's grandchildren.
In lieu of flowers, the family requests that you spend time with an elder, listen and learn from their sage advice. Memorials may be made to the Cedar Creek Cemetery Fund, c/o Chambers Bank, 418 S. Main, Waldron, Ark., 72958. In honor of Gran - Proverbs 31:10-31.
Online condolences may be sent at www.martinfuneralhomes.com.
Published March 4, 2019
OBITUARY SUBMITTED BY:
Martin Funeral Home
101 W. 4th street, P.O. Box 786, Waldron, AR
Find it at: Corner of 4th street and Washington
E-mail: martinfh1@centurytel.net
Phone: 479-637-2167
http://www.martinfuneralhomes.com/