Herman L. (Bud) Wrede
Bentonville, AR, 1913 - 2019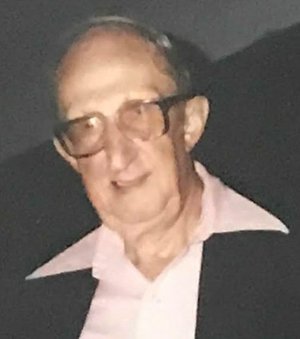 Herman L. (Bud) Wrede, 105, of Bentonville, Ark., died Tuesday, February 26, 2019, at Bradford House in Bentonville. He was born on December 19, 1913, in Mamaroneck, N.Y., to Herman L. Wrede Sr. and Marie King-Wrede. He was predeceased by his wife Evelyn Radcliffe-Wrede; and their son, Robert H. Wrede.; also predeceasing were two sisters, Wilma and Adelaide and a brother Robert.
He married Evelyn Radcliffe on June 30, 1940, at St. Thomas Episcopal Church in Mamaroneck, N.Y. They just celebrated their 70th wedding anniversary in 2010 before she passed in 2011. Bud was a World War 2 US Army veteran and saw action in the Pacific. Evelyn and Bud moved to Bella Vista from Oakland, N.J. in the early 1980s, to retire and be closer to their son, Robert. He retired from Grand Union after a respected 60 years of service. He was very active in Boy Scouting for many years while living in New Jersey. He was a member of St. Theodore's Episcopal Church in Bella Vista, Ark., where he will be interred beside his beloved wife Evelyn and their son Robert.
He is survived by three granddaughters, Elizabeth Norton, Victoria Wrede, and Cheyenna Starkovich. He is also survived by 4 great-granddaughters and numerous nieces and nephews from both the Wrede and Radcliffe sides of the Family.
A Memorial Service will be held at 11 a.m., Saturday, April 6, 2019 at St. Theodore's Episcopal Church, Bella Vista, Arkansas. In lieu of flowers, memorial contributions can be made to St. Theodore's Episcopal Church, 1001 Kingsland road, Bella Vista, Arkansas 72714. Arrangements are by Bella Vista Funeral Home & Crematory. Online condolences may be made at www.funeralmation.com.
Published March 7, 2019
OBITUARY SUBMITTED BY:
Bella Vista Funeral Home and Crematory
2258 Forest Hills Blvd, Bella Vista, AR
E-mail: office@funeralmation.com
Phone: 479-855-1611