Pastor Larry R. Stark
Dubuque, IA, 1940 - 2019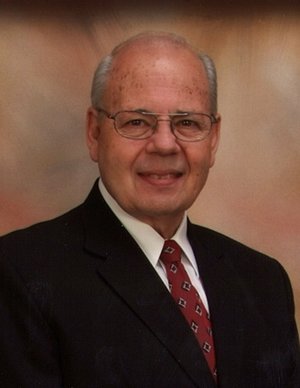 Pastor Larry R. Stark, 78, of Dubuque, Iowa, went to Heaven on Monday, March 4, 2019, at the University of Iowa Hospitals and Clinics, Iowa City, Iowa. His death was the result of rare complications of shingles he contracted in December.
Funeral service will be held at 10:30 a.m. Friday, March 8, 2019, at Bible Baptist Church, 940 Walker Street, Dubuque, Iowa. Visitation will be from 5 p.m. to 8 p.m. Thursday, March 7, 2019, at Bible Baptist Church. Family and friends may also gather after 9:30 a.m. Friday at the church until time of service. On Tuesday, March 12th, his body will be laid to rest in Crestlawn Memorial Cemetery, Conway, Ark, with a brief service at 11 a.m.
Leonard Funeral Home & Crematory, Dubuque, Iowa, is assisting the family. Pastor Stark was the oldest child of the late R.O. and Doris Stark of Conway, Ark,. He is survived by his sweetheart of 57 years, Paula Bell Stark; four daughters, LaVonna (Joel) Butler, of Gaylord, Mich.; LaNita (Dirk) Margheim of Alexandria, La.; Lisa (Scott) Griffin, of Dubuque, Iowa; and Laura (Bobby) Buchanan of Midland, Texas; three sisters, Wanda (Fred) Landers of Conway, Ark,; Betty Jones of Richmond, Ky.; and Donna Hall of Conway, Ark,; sixteen grandchildren, four of whom are married; and nine nieces and nephews.
He was a Baptist preacher for 57 years, pastoring churches in Arkansas, Missouri, Louisiana, North Dakota, and Iowa. The loving people of Bible Baptist Church, Dubuque, Iowa his present pastorate of 22 years, deeply mourn his untimely death along with his family.
Pastor Stark loved God's Word, spending hours daily reading, praying, and preparing sermons. Over the years he taught many valuable truths, including the relationship between thanksgiving and grace, speaking life, gifts to the King, and faithfulness to church. Sermons were sprinkled with personal illustrations that became as familiar to his congregation as to himself. He often said, "God reserves His best for those who give Him their best."
He had a brilliant mind and never stopped learning. He enjoyed helping his granddaughters and church youngsters with math or crossword puzzles, and loved attending local high school basketball games. A favorite topic was food, and his family joked that he spent one meal planning the next. Pastor Stark had a delightful sense of humor and a great laugh. He and his precious Paula Sue did everything together. They loved road trips, especially to a grandchild's graduation or wedding. He would have been so grateful for the outpouring of love and care shown by so many to Paula the last 2 1/2 months. One of the most humble, unselfish men you will ever meet, he will be dearly missed until we meet again in Heaven.
Published March 10, 2019