Martha Louise Johnson
of North Little Rock, AR, 1940 - 2019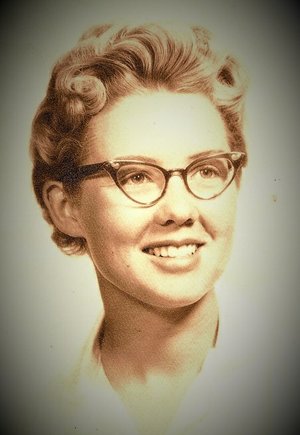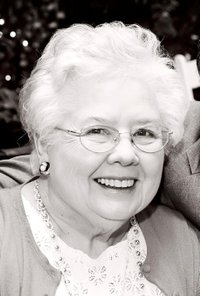 Martha Louise Johnson was born on February 15, 1940 to Eugene Francis Newkirk and Olive Ione Huffman in Bloomington, Indiana. While in elementary school she moved with her family to Harlingen, Texas. Martha has since considered herself a Texas girl.
Martha met Jerry Robert Johnson, a transfer student from Illinois, their senior year of high school. At the time Martha, aka The Golden Goddess, was a lifeguard and a water safety instructor. Jerry was a handsome basketball player who went on to become an officer in the US Air Force. They married the morning of March 4, 1961 in Harlingen and left that afternoon for Jerry's first assignment at Donaldson AFB in Greenville, South Carolina.
They quickly found themselves the parents of four children: Leslie Jean Perry (Robert), Lisa Carole Rich (Gary), Laura Lee Kordsiemon (Robert), and Barry Keith Johnson (Amy). Seven of their first 12 years of marriage found Martha managing a household and taking care of the kids on her own due to Jerry's military assignments far from home. After several moves with the Air Force, they settled and made their home in North Little Rock, Arkansas where they have lived for the last 48 years. In the early 1970s Martha went back to college, obtained her nursing degree, and worked in the Baptist Medical System as an RN for over 30 years. After retiring from nursing, Martha continued working in the Johnson family business, a guest ranch in NW Arkansas.
Their lives were changed forever when Jerry and Martha, along with their children, joined the Church of Jesus Christ of Latter-day Saints on November 30, 1976. Martha served her Heavenly Father, her family, her fellow church members, and her community in many capacities throughout her life, always holding a soft spot in her heart for those she considered less fortunate or struggling in some way. Her favorite hymn reads "Have I done any good in the world today? Have I helped anyone in need?" She lived by this principle of service.
Martha passed away at home on March 24, 2019 surrounded by her family. She is survived by her husband, Jerry, their children, her brother Irvin Newkirk (Sharon), and her sister Mary Mahan. She also left behind 17 grandchildren and 32 great grandchildren, knowing they will someday reunite and spend eternity together.
Visitation will be held Wednesday, March 27 from 6-8 p.m. at the Griffin Leggett Rest Hills Funeral Home located at 7724 Landers Road in NLR. A celebration of her life will be held on Thursday, March 28 at 2 p.m. at the Church of Jesus Christ of Latter-day Saints located at 905 Kierre Drive in NLR. Visitation will be held prior to the funeral service at 12:30 p.m. Interment will follow at Rest Hills Memorial Park. An online guestbook is available at www.griffinleggettresthills.com.
Published March 26, 2019
OBITUARY SUBMITTED BY:
Griffin Leggett — Rest Hills
7724 Landers Road, North Little Rock, AR
Phone: 501-835-3515
http://www.griffinleggettresthills.com/