Willa "Dean" Wingfield
of Sherwood, AR, 1937 - 2019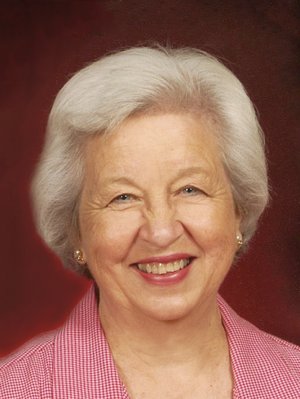 Willa Dean Wingfield, at the age of 81, woke up in the arms of Jesus and was reunited with her husband, Robert, son Barry, grandsons Tyler and Bryan, and nephew Matthew on Friday morning, March 22, 2019, passing peacefully, and in her sleep.
Dean was born in Logan County, Arkansas in 1937 to Willard and Addie Starling. She attended Magazine Public Schools, one year at the University of Arkansas in Fayetteville and then graduated from Harding University in Searcy, Arkansas. Several years later she earned her Masters in Elementary Education from UCA. She married her high school sweetheart, Robert Wingfield in 1956 at the age of 18. After a year in Carlsbad, New Mexico, Dean taught school at Bentwaters U.S. Air Force Base near Ipswich, England for nearly three years while Robert served as a missionary. After a quick stint in Paris, Arkansas, Dean and Robert went back to Carlsbad, New Mexico where Ellen and Jeff joined the family. The family of four then moved to Central Arkansas when Robert became the pulpit minister for the Sylvan Hills Church of Christ. Soon after, Barry arrived and completed the family of five.
Dean was instrumental in the beginnings of Central Arkansas Christian Schools and was a teacher and elementary principal for over 33 years, laboring tirelessly and joyfully in Christian education. Dean retired from her leadership position in 2009 but worked part-time for several years. Her heart, kids and several grandchildren, were always at CAC. She loved all of her students passionately, encouraging countless students and subsequently those students' children to live lives worthy of Christ.
Although Dean and Robert lived most of their lives in Central Arkansas, her heart was never more than a minute away from her birthplace, her sister Carolyn, many other relatives and lifelong friends in Magazine, Arkansas. Dean and Robert built a small homestead there over a 50-year period, mostly on weekends, never completely finishing as each time their family expanded, so did the little house. Dean was determined that the place, affectionately known as "The Cabin," would hold her entire family and loved ones for holidays or just when folks wanted to drop by. Dean has been in the cattle business with her nephew Paul for many years, never allowing her Daddy's herd to diminish. She has also kept her nephew Jerry busy with multiple projects for many years, loving their families and their kids' families as if she was always next door. The only thing that Dean ever wanted was to be a mother. God saw fit to create Dean's family a little differently than most. Through his perfect design, God blended a family that Dean loved, adored and lived for. Her love for ALL children was evident in everything she did. She served as a leader and mentor for young women and young mothers her entire life. She was without equal in her patience for all kids. Encouragement and discipline flowed equally as Dean applied them indistinguishably with grace, love and mercy. (On a side note… Ellen, Jeff and Barry are not so sure discipline was abundant with her grandchildren). Dean was instrumental in starting the nursery program at Sylvan Hills Church of Christ, taught Bible classes at many churches, served as volunteer coordinator for many childrens' programs and worked with multiple other ministries. Last Monday, she was serving at the "Bus Barn" working with local charities. Dean was always quietly looking for ways to help others. Known as "Gran," Dean's constant grandchild transportation service was affectionately known as "GrUber."
Her love for Robert and all her kids was only surpassed by her love for her Heavenly Father. She often talked of the reunion she experienced Friday morning.
Dean was also preceded in death by her parents, Willard and Addie Starling of Magazine, Arkansas. She is survived by her children, Ellen (Matt) Binford of North Little Rock, Jeff (Judy) Wingfield of Little Rock, Barry's wife Alicia Wingfield of Sherwood; her sister, Carolyn (Harold) Holt of Magazine; grandchildren, Daniel (Katherine) Wingfield, Caleb Binford, Mikaila Wingfield, Jake Wingfield, Jeremiah Wingfield and RJ Coleman; and one great-grandson, Rhys Wingfield; and many nieces, nephews, cousins and friends.
Visitation will be on Tuesday March 26th from 5:30 to 8 p.m. The funeral service will be on Wednesday the 27th at 10 a.m. and both will be at Sylvan Hills Church of Christ in Sherwood. Interment will be held at Evans Cemetery in Magazine, Ark. at 4 p.m. In lieu of flowers, donations can be made to Central Arkansas Christian NLR Elementary. Online guestbook at www.smithfamilycares.com.
Published March 26, 2019
OBITUARY SUBMITTED BY:
North Little Rock Funeral Home
1921 Main St, North Little Rock, AR
E-mail: mail@nlrfh.com
Phone: 501-758-1170