Ann Bradley Backus
Hot Springs Village, AR, 1939 - 2019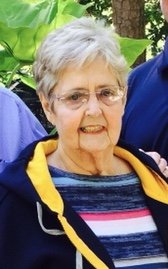 Ann Bradley Backus, 79, of Hot Springs Village, Ark., passed on Monday April 29, 2019 at St. Vincent Hospital in Hot Springs, Ark. after a short illness.
Ann was born to Gerald and Elizabeth Bradley, May 22, 1939, in Charleston, West Virginia. She graduated from Charleston High School in 1957 and attended Marshall University. She married Frank Backus in 1959, and they lived in many cities together throughout Frank's career with DuPont Chemical Company. Together they raised two children.
She is survived by her husband, Frank, her sons, Dave and Tim, her grandchildren, Kendall, Cody, Kayla, Jordan, and Timothy, and her great-grandchildren, Malachi, Shepherd, Shea, and Corban.
Ann was a bank teller for National Bank of Commerce in Memphis, Tenn. and greeted every customer with a joke and a smile until she retired in 1994. She never met a stranger and made sure everyone knew she was pulling for the West Virginia Mountaineers. Ann loved to entertain and will be dearly missed by her family and friends.
A celebration of Ann's life is scheduled for Thursday May 2, 2019, 2 to 4 p.m. at Caruth Village Funeral Home, 4623 North Hwy 7, Hot Springs Village, Ark. 71909. The family requests that donations be made to the Alzheimer's Association 225 N. Michigan Avenue, Floor 17, Chicago, Ill. 60601 at https://act.alz.org. site/donation. Or the HSV Animal Welfare League, 195 Cloaca Lane, Hot Springs Village, Ark. 71909 at http://www.hsvawl.org. Guests may register at www.caruth-hale.com.
Published May 2, 2019
OBITUARY SUBMITTED BY:
Caruth-Hale Funeral Home
155 Section Line Road, Hot Springs, AR
Phone: 501-525-0055
http://www.caruth-hale.com