Barret Ryan Seymour
Little Rock, AR, 1976 - 2019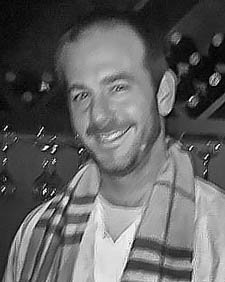 Barret Ryan Seymour, age 42, of Little Rock, Ark., died on Saturday, April 27, 2019, sustaining traumatic brain injuries after being hit by a car while walking on Friday, April 26, 2019. He was born on October 12, 1976 in Little Rock, Arkansas.
Barret graduated from Catholic High in Little Rock and from Westminster College in Fulton, Mo. He had a professional Wine degree from the Culinary Institute of America in Napa, California. He worked in the hospitality and pharmaceutical industry. He was a proud Sigma Chi.
He is preceded in death by his grandparents, Reynolds and Irma Lee Seymour. Survivors include his parents, Pam and Neil Jones of Little Rock, Ark. and Renny and Lynne Seymour of Elkins, Ark.; one daughter, Cori of Oklahoma; grandparents, John and Dollie McIntire of Roland, Ark.; three brothers, John Seymour (Jenny) of Eureka Springs, Ark., Reynolds Seymour of Bay, Ark. and Scott Jones of Little Rock, Ark. and many aunts, uncles, cousins, nieces, nephews and a special aunt, Toni Prohl (Eugene) of Mountain Home, Ark.
A memorial service will be 2 p.m. on Saturday, May 4, 2019 at Christ Episcopal Church, 509 Scott St., Little Rock, Ark. with The Reverend Dr. Kate Alexander officiating. A reception will follow the service.
Barret was an organ donor which will allow four people to live through the donation of his heart, kidneys and liver. In lieu of flowers, donations may be made to ARORA at https://www.arora.org/. To sign the online guest book, please visit www.rollerfuneralhomes.com/chenal.
Published May 2, 2019
OBITUARY SUBMITTED BY:
Roller-Chenal Funeral Home
13801 Chenal Parkway, Little Rock, AR
Phone: 501-224-8300
http://www.rollerfuneralhomes.com/chenal