Robert G. (Bob) Cress
of Little Rock, AR, 1932 - 2019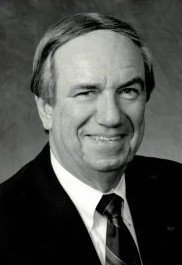 Robert G. (Bob) Cress of Little Rock died at home on April 30, 2019 under the care of Arkansas Hospice. He was born November 26, 1932 and Little Rock has always been his home. He was the son of Vera and George Cress. He attended Little Rock public schools and graduated in 1950 from Little Rock High School. He attended Vanderbilt University where he graduated Cum Laude in 1954. He was a member of Phi Beta Kappa honorary fraternity and the Sigma Alpha Epsilon fraternity.
After college Bob became a Certified Public Accountant. He worked five years with the local accounting firm of Hennegin, Croft and Cotham (now Howland and Norris). In 1959 he joined J.A. Riggs Tractor Company, remaining there for 43 years and retiring in 2002 as Chairman of the Board and part owner.
Over the years he was active and supportive of many charitable and civic organizations. He was on the Board of Arkansas Children's Hospital for 35 years. He was President in 1976 through 1979 when the hospital was beginning to expand its outreach. He was elected Emeritus to this board in 2000 and continued on the foundation board until 2014 when he was elected Emeritus to this board as well. Bob was a long-time member of First United Methodist Church in Little Rock, and chaired their Board of Trustees in 2006.
He chaired the Pulaski County Chapter of the American Red Cross 1968-1970; chaired the Arkansas Hospital Equipment Finance Authority 1982-1992 and was a past board member of the United Way, Arkansas Symphony Foundation, Donald W. Reynolds Institute on Aging, Little Rock Chamber of Commerce and the Little Rock Country Club.
He was a member of the Hendrix College Board of Trustees and chaired the Endowment Committee from 1985 through 1994. His father introduced him to Rotary Club 99 of Little Rock in 1959 and he continued as a Rotarian until his death.
Bob enjoyed a wide range of friends around Arkansas and elsewhere, and never met anyone he couldn't strike up a conversation with. His interests were varied, but he was particularly fond of horse racing and reading. He and Lee loved to travel in their younger years and saw most of the United States, Europe and Australia.
Bob dearly loved his four grandsons. He was devoted to being the best "Pop" possible and always had time for each of them.
He was predeceased by his parents and his daughter, Carolyn Cress English. He is survived by his wife of 62 years, Leila (Lee) Riggs Cress; son, Rob Cress and his wife Julie; his son-in-law, Steve English; his four grandsons, Robert Cress and his wife Belen, Tyler Lawrence and his wife Erica, George Cress and his wife Jana and Conner Lawrence and his wife Audrey. He is also survived by his sister, Helen Cress Buchanan and her children, Clay Buchanan, his wife Julie and their children and Dr. Kate Buchanan Mitchell, her husband Justin and their children.
A Celebration of Life Service will be held at First United Methodist Church on 8th and Center in downtown Little Rock at 2 p.m. on Friday, May 3rd, 2019 following a private internment. In lieu of flowers, memorials may be made to Arkansas Children's Hospital. Service arrangements are entrusted to Ruebel Funeral Home, please sign the online condolence book at www.ruebelfuneralhome.com.
Published May 2, 2019
OBITUARY SUBMITTED BY:
Ruebel Funeral Home
6313 West Markham Street, Little Rock, AR
Phone: 501-666-0123
http://www.ruebelfuneralhome.com