Alice Lee Gregory
Piggott, AR, 1931 - 2019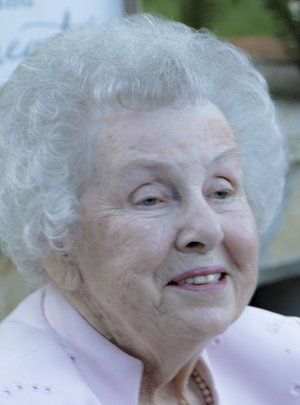 Alice Lee Cochran Gregory died peacefully in her home with her family on May 3, 2019, at the age of 88, after begrudgingly facing pancreatic cancer for a brief period. She was right with God and just wanted her family to be ready to live on well without her. She was born January 11, 1931, in Hoxie, Arkansas to Lloyd Lee ("Red") Cochran and Julia Isabel Belk Cochran. She attended Hoxie First United Methodist Church and graduated from Hoxie High School where she played basketball and was a cheerleader, and more importantly learned piano from Ms. Clara Wier. She attended Arkansas State College (now Arkansas State University) in Jonesboro, Ark., where she majored in piano and took lessons from Dr. James Patty. She was a member of Alpha Gamma Delta sorority and the first TKE Sweetheart. At Arkansas State she met David Charles Gregory and they were married on September 3, 1950. They were happily married for over 53 years, living in Piggott, Ark. most of that time.
She was a private piano teacher for many years. Holding lessons in her living room and recitals in the sanctuary of the Methodist Church, she was a demanding but loving teacher. Her many students all call her Miss Alice to this day.
From the early 1980s until the death of her mother in 2013 she was the ultimate caregiver to her in-laws, parents and husband: two meals a day to her in-laws, laundry and physical therapy for her mother in law in the nursing home, around the clock care to her husband whether in the home or hospital throughout nearly 40 years of a crippling illness, to the most devoted of home care to her mother to the age of nearly 107. As she promised her, her mother remained in her own home to the end.
She was truly the Matriarch of the family. Her home was made warm and loving and usually filled with the delicious smells of pies and cakes. She was an excellent cook and baker. Christmas and Thanksgiving feasts were piled high and Sunday lunches of roast and potatoes a staple.
She was an active member of the Sugar Creek Bridge Club. Their card nights were festive and filled with laughter and good natured ribbing of partners and opponents alike - and always full of food. Her community involvement also included being a Cub Scout den mother. And like her parents before her, she loved the St. Louis Cardinals.
She was a long time and loyal member of Piggott First United Methodist Church where she sang soprano in the Sanctuary Choir for 50 years before retiring in 2018. Over the years she was the church secretary, the church pianist, especially playing the Sunday night service, a children's Sunday school teacher, a member of the United Methodist Women, and a Faithful Cooking Cookbook contributor. In over 50 years one can't count the number of potluck dishes she prepared and took to church or the number of soloists she accompanied or funerals she played; playing her last funeral in 2018 at age 87.
She was preceded in death by her husband, her parents, her beloved brother Winfield Cochran, her mother- and father-in-law, David Cumi Gregory and Nora Easterwood Gregory and a son-in-law Bill Davis.
She is survived by her sister-in-law June Cochran of Walnut Ridge, a daughter, Sarah Lee Davis of Walnut Ridge; two sons, David Cochran Gregory and wife Kelly of Piggott and Joseph Winfield Gregory and wife Gena of Little Rock; seven grandchildren, Laura Elizabeth Madden and husband, Chris, of Bono, Erin Lee Manning and husband, Ryan, of Walnut Ridge, Brian Michael Gregory and wife Lauren of Jonesboro, Joshua Andrew Gregory of Little Rock, Taylor Lee Thomas and husband Sean of Jonesboro, Spencer Winfield Gregory of New Orleans, La., and Noah David Gregory of Piggott; and six great grandchildren, Grace Lee Madden and Barrett Jay Madden of Bono, Eva Ryan Manning of Walnut Ridge, Alice Rowan Gregory of Jonesboro and Hadlee Isabela Gregory and yet to be born Holland Taylor Thomas of Jonesboro. She is also survived by her Belk and Doyle family cousins and her Ward family nephews.
A service of celebration of her life will be held at 3 p.m. May 5, 2019, at the Piggott First United Methodist Church. Burial will follow in the Piggott Cemetery. Active pallbearers are her grandsons and grandsons-in-law Brian Gregory, Josh Gregory, Spencer Gregory, Noah Gregory, Chris Madden, Ryan Manning and Sean Thomas. Hoggard and Sons Funeral Home of Piggott is in charge of the arrangements. Visitation will begin at 1 p.m. at the Church and continue until service time. The family wishes to thank Deb Mallard for her tender care and friendship to Miss Alice. The family also wants to thank St. Bernard's Hospice. In lieu of flowers, memorials may be made to Piggott First United Methodist Church, 188 N. 3rd St., Piggott, Ark. 72454 or Piggott Community Hospital, 1206 Gordon Duckworth Dr., Piggott, AR 72454.
Published May 4, 2019
OBITUARY SUBMITTED BY:
Hoggard & Sons Funeral Home
142 North 3rd Avenue, P.O. Box 415, Piggott, AR
Phone: 870-598-3469
http://www.hoggardfuneralhome.com