Thomas Ewart Faust
Helena-West Helena, AR, 1929 - 2019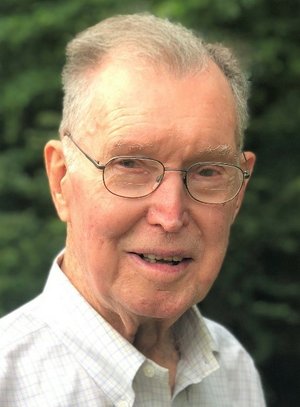 Thomas Ewart Faust, 89, died May 5, 2019, at his home in Helena, Ark. He was born on June 5, 1929, to Fred and Alma Faust of West Helena. He graduated from Woodruff High School in 1946 and in 1950 earned a Bachelor of Science in Business Administration from the University of Arkansas, where he was a member of Sigma Alpha Epsilon fraternity.
After graduation, he married Betty Jane McGinnis of Rondo and returned to his hometown. His life's work was operating Faust Band Saw Mill with his brother, Fred Faust Jr., and their father, Fred Faust Sr.
A devoted churchgoer, Tom served as a deacon and elder at First Presbyterian Church in Helena, where he taught Sunday school for over 50 years. He was a member of the Helena-West Helena school board for 19 years, including a long tenure as president.
He was appointed to the Arkansas Forestry Commission by Gov. David Pryor in 1977 and served for 18 years. He was also a member of the board of directors of the Arkansas Forestry Association, including a term as president in 1970-71.
Tom was a passionate sports fan, especially dedicated to the Arkansas Razorbacks, and he attended games at War Memorial Stadium in Little Rock for over 60 years. He enjoyed watching his children and grandchildren participate in sports ranging from basketball, baseball, football and tennis to swimming, softball, volleyball and cross country.
A man of few words, he expressed his love for his children, grandchildren and great-grandchildren by often saying "I am proud of you."
He is preceded in death by his parents and his wife of 66 years. He is survived by his brother Fred (Ann) Faust, Jr. of Helena, his sister Laura F. Deitz of West Helena, and four children: Jane (Alan) Belsches of Dothan, Ala.; Carol Faust of West Helena; Tom (Winnie) Faust, Jr. of Wellesley, Mass.; and Kate (Bill) Franks of Little Rock. He is also survived by grandchildren Sara (Justin) Green of Memphis; Adam (Philippa) Belsches of Crozet, Va.; Ted (Stephanie Paolini) Belsches of Pittsburgh, Pa.; Travis (Heather) Faust of Wellesley, Mass.; Luke Faust of Boston, Mass.; Ethan Faust of Baltimore, Md.; Diana Faust of Wellesley; Thomas and Libby Franks of Little Rock; and six great-grandchildren.
The family would like to thank Johnny Woodley, Roy Oties, Sandra Bridget, Diamondra Adams and Marie Seats for the loving care they provided during his final weeks. They would also like to thank Patients' Choice Hospice and Dr. James Pillow.
Following a private burial, a memorial service will be held at 11 a.m. on Monday, May 13, at First Presbyterian Church. The church is located at 629 Porter Street in Helena. Services will be directed by Roller-Citizens Funeral Home in West Helena. The funeral home will be open from 4 to 6 p.m. on Sunday, May 12, for those who wish to pay their respects.
In lieu of flowers, memorial contributions may be made to First Presbyterian Church, 629 Porter St., Helena, Ark. 72342; Warfield Concert Series Foundation, P.O. Box 81, Helena, Ark. 72342; or Grace Community Food Pantry, 520 Walnut Street, Helena, Ark. 72342.
Services will be directed by Roller-Citizens Funeral Home, West Helena, (870)572-2571. Relatives and friends may sign the online guestbook at www.rollerfuneralhomes.com/westhelena.
Published May 10, 2019
OBITUARY SUBMITTED BY:
Roller-Citizens / West Helena
508 E. Plaza St., P.O. Box 2427, West Helena, AR
Phone: 870-572-2571