Beatrice Fuqua Hegenberger Magers
New Orleans, LA, 1921 - 2019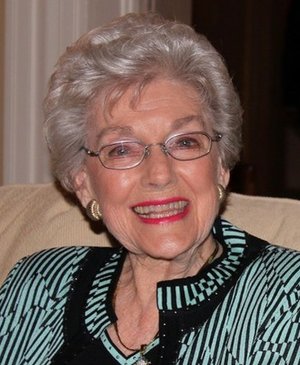 Beatrice Fuqua Hegenberger Magers. Beatrice ("Bea") Fuqua was born March 10, 1921, in Little Rock, Arkansas and died on May 10, 2019. She spent most of her life as a resident of Little Rock until she relocated in 2018 to live near family in New Orleans, La. She graduated from Little Rock Central High School in 1939 and attended Little Rock Junior College, now the University of Arkansas at Little Rock. While working at the US Army Corps of Engineers, she met a recent West Point graduate, Albert Carl Hegenberger, who was stationed at Camp Robinson during the war. They married April 14, l944 and remained married until his death in l957. She returned to Little Rock after his death and in l966, she married Lt. Col. Norman Porter Magers, Jr. and remained married until his death in 2003.
Bea had a love of life and adventure that was unparalleled. She was a quintessential life long learner. Her energy was boundless and she loved traveling, conducting research on the places she visited so as to make the most of the experience. She felt fortunate to have been to so many wonderful places around the world and was proud to have visited each of the 50 states. Her seven trips to Hawaii were among her favorites. She derived great pleasure from her grandchildren and took them abroad and to wonderful vacation spots in the United States. She was loving, supportive, always enthusiastic, was devoted to her extended family and adored her numerous friends. Bea was a wonderful hostess and enjoyed preparing and sharing food with friends. Her optimism and positive attitude will be greatly missed.
She was a long time member of Pulaski Heights Presbyterian Church where she served as an elder, a deacon, taught Sunday School and was active in the vacation bible school. More recently she joined Second Presbyterian Church and became an active participant in the activities of the church. During World War II she served as a volunteer for the Red Cross. She belonged to the La Moderne Civic Club, the Departmental Club, served on the local board of the Florence Crittenton Home, was a member of the Arkansas Arts Center and a lifetime member of the Salvation Army Auxiliary.
She is survived by a brother, Donald Fuqua of Rocklin, California, a son and daughter from her first marriage, Richard Hegenberger (Kathy) of Charleston, S.C. and Carla Fishman (Louis) of New Orleans, La. and by her step-children, Norman P. Magers, III of Atlanta, Ga., sister, Pamela Clare Magers of San Francisco, Calif., and James Magers (Patsy) of Sherwood, Arkansas and by her former daughter-in-law Frances M. Hegenberger of New Orleans. She is survived by nine grandchildren and 11 great-grandchildren. She was preceded in death by her parents, Earl and Marie Waeger Fuqua, her brother, Earl William Fuqua Jr. and by her husbands.
A memorial service will be held in the Chapel of Second Presbyterian Church at 2 p.m. on Friday, May 17th with a reception following in Second Hall. Memorial donations can be made to the Salvation Army, Second Presbyterian Church, or to the charity of your choice. Arrangements by Jacob Schoen & Son Funeral Home 3827 Canal St. New Orleans, La. 70119. Condolences may be left at www.schoenfh.com.
Published May 15, 2019