Patricia Ann Davidson Weeks
of North Little Rock, AR, 1942 - 2019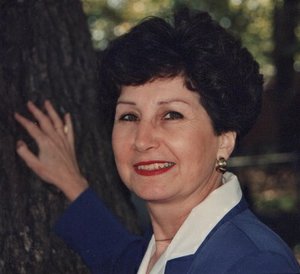 Patricia Ann Davidson Weeks of North Little Rock, Ark., born December 10, 1942, died May 13, 2019. If you asked our Mom her calling in life, she would tell you that it was to be a mother and to train up her children in the way they should go (Prov. 22:6). Despite what anyone else might think, she would tell you that she accomplished that mission. She is survived by her three children, Doug Weeks (Leighton) of Little Rock, Ark., Karey Gardner (Jerry) of North Little Rock, Ark., and Layne Weeks (Kristen) of Ruston, La.
The joy of being a mother to her children was surpassed only by the joy of becoming a grandparent. She loved to share stories of cute things they did or said growing up and their accomplishments along the way. She is survived by her four beautiful grandchildren, Connelly Weeks of Norman, Okla., Taylor Weeks of Fort Worth, Texas, Samuel Weeks of Ruston, La. and Steven Weeks of Little Rock, Ark.
Mom loved sewing, reading, gardening, listening to music, writing poetry and all things Irish. Fortunately, she was able to take her dream trip to Ireland with our Dad in 2012 before their failing health. She is preceded in death by her husband, David, of 57 years, her parents Clyde and Gussie Davidson and a sister, Hedda Lee. Surviving siblings include brothers, Billy, Buddy and Al, and sisters, Vada and Cynthia.
There are so many people who fought the battle alongside Mom and us to whom we will always be grateful. While we risk overlooking some, we would like to personally thank Dr. Diane Wilder and her amazing staff, Dr. Hugh (Lin) Burnett and his wonderful office staff, Home Instead - most especially Fran who has been a kind and loving caregiver to Mom for several years - Baptist Health Home Health and Hospice (particularly Nathan and Mona), the caregivers at Baptist Health Medical Center and Rehabilitation Institute, family and friends for their prayers, love and support and so many more that we wish we could name individually. Doug and Layne wish to express their gratitude to their wonderful sister, Karey, and brother-in-law, Jerry, for their compassion and attentiveness to their mother during her illness.
Throughout her illness, Mom found great strength in her faith and claimed the promise of Malachi 4:2…"But unto you that fear my name shall the Sun [Son] of righteousness arise with healing in his wings." Mom fought a long, hard battle over her illness and won her battle and is now healed.
Visitation will be on Saturday, May 18, 2019 at Smith-North Little Rock Funeral Home from 11 a.m. to 1 p.m. Online guestbook at www.SmithFamilyCares.com.
Published May 15, 2019
OBITUARY SUBMITTED BY:
North Little Rock Funeral Home
1921 Main St, North Little Rock, AR
E-mail: mail@nlrfh.com
Phone: 501-758-1170