James A. Pence Jr.
of Little Rock, AR, 1923 - 2019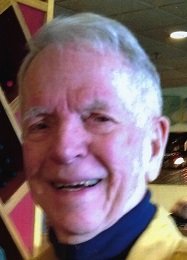 James A. Pence Jr. of Little Rock, passed away on May 19, 2019 at the age of 95. Jim was predeceased by his mother, Mattie "Skeet" Pence and his father, J.A. Pence Sr., his dog, Link and many aunts and uncles. Jim is survived by cousins, B. Jeffery Pence, George "Sandy" Pence of Memphis, and Mary Alice Irby of Macon, Georgia.
He graduated from Little Rock Senior High School where he was President of his fraternity and attended the University of Arkansas where he was pledge master of Pi Kappa Alpha until he and several fraternity brothers left school for World War II. He was a bombardier on a B24 and flew 34 bombing missions over Europe, taking flak on each mission. During those bombing missions in the Army Air Corps, he was never injured. Jim retired as a Major in the Air Force Reserve.
After returning home to Little Rock, Jim never flew on a commercial flight, thinking he had used up all his luck. He then returned to college at Washington University in St. Louis to study architecture and was President of his fraternity there.
Coming back to Little Rock, he worked with IKElectric and Moses Melody Shop, where he sold records, record players and stereos to most of the kids in Little Rock. After Moses closed, Jim finished his career at Mary's Music Shop in the Heights. He designed his home in the Heights in 1953 where he lived the rest of his life. He never married, but came close a few times.
Jim was very artistically talented. His hobbies included listening to operas and classical music, ceramics, art, painting, china painting, creating many items in his kiln, reading, participating and teaching Tai Chi. He was a 32nd degree Mason, Shriner and a member of the Blue Lodge. Jim was raised a Methodist, and belonged to St. Luke United Methodist Church where he sang in the choir and participated in all church activities. He was a voracious reader, was well read on most subjects, and had a very frank and straight forward opinion on most subjects. Jim was very independent and was conservative in his views. He was loved by friends and family.
Services will be Thursday, May 23 at 10 a.m. at Little Rock Funeral Home, 8801 Knoedl Ct. (NW corner I-630 and Barrow Rd.), officiated by Rev. Andrea Cummings. Visitation will precede the service beginning at 9 a.m. Interment will follow at Roselawn Memorial Park.
Memorials may be made to St. Luke United Methodist Church, the Humane Society of Pulaski County, or the Arkansas Heart Association. Arrangements by Little Rock Funeral Home, (501) 224-2200. Jim's online guestbook may be signed at www.littlerockfuneralhome.com.
Published May 21, 2019
OBITUARY SUBMITTED BY:
Little Rock Funeral Home
8801 Knoedl Ct., Little Rock, AR
Phone: 501-224-2200