Joe Lewis Kelley
Lonoke, AR, 1928 - 2019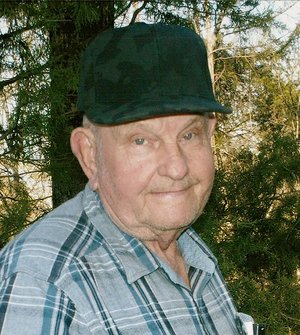 On May 19, 2019, Joe Lewis Kelley, age 90, son of late parents, Holman and Gertie Kelley, passed away in his home he built with his own two hands for himself and his late wife, Marjorie Lois Kelley. He was a farmer, a builder of homes, HVAC - Remington Arms, Gibbs Service Company for his buddy, Huey Gibbs. He enjoyed his craftsmanship, Adirondack furniture showing at River Market for over 20 years, where he made many friends.
Known for his strength, large hands, big heart and unconditional love for his family and friends. His stories were music to your ears and taught many lessons not only about daily life values, but passions for nature such as gardening, fishing, and hunting. He knew the importance of hard work yet taught us the joy of "make believe" and his love of Disney. He warmed everyone's heart with his "Popeye" smile.
Joe Kelley is survived by three daughters, Sandra Joy Allison Werling, spouse David Erwin Werling, Carolyn Jo Roark, spouse Rodney Dean Roark and Lori Ann Robertson, spouse Gary Lee Robertson. Grandchildren, Jennifer Joy Kelley Nichols, Marjory Jill Allison, William David Allison, spouse Rachel Noel Allison, Judith Carolanne Allison, spouse John D. Allen IV, Katie Allison Quarttro, Susan Allison Johnson, Lauren Mary Allsion, Christina Marie Werling, Brian Christopher Werling. Catrina Dan'el Wright, spouse Jeremy Robin Wright, Shannon Jill Roark, Rodney Blake Roark, Sarah Elizabeth Harris, fiancé Jason Sheffler, Joel Douglas Harris, Drake Christian Robertson and Kaylee Grace Robertson.
Great Grandchildren - Jeremiah Jackson Griffin, fiance'e Brianna Ashley Brown, Haley Joy Griffin and Kody Lynn Harvey, Ricky Anthony Nichols, fiancée Victoria Tyler Whitaker, Sierra Joy Lois Allison, Emma Grace Watkins, Aubrey Lois Allison, Collins West, Joni Allen, John D Allen V (Jack), Rodney Garrett Wright, spouse Maresha Joann Wright, Caitlyn Taylor Wright, Braden Cache Wright, Alexis Christine Whiting, Kendal Christine Whiting.
Great-Great-Grandchildren, Tristan Lee Irvine Griffin, Kade Braxton Harvey, Kolbie Rose Nichols, Madelyn Dan'el Wright, Oakley Benson Wright.
Siblings, Brother and also best friend, Edward Kelley, spouse Margie Kelley, Robert Kelley, Holman Kelley, spouse Ann Kelley, Olan Kelley, spouse Ruth Kelley.
His beautiful and amazing sisters, Annie Goacher, spouse Lewis Goacher, Lois Hardin, spouse JE Hardin, Linda Hearn, spouse Gary Hearn, Alice Cook, spouse James Cook and Lorene Latham, spouse Edward Latham; and many nieces, nephews and cousins.
A website memorial is available at www.griffinleggettresthills.com. We hope you will visit and post your favorite memory. Visitation will be Tuesday May 21, from 6 to 8 p.m. at Griffin Leggett Rest Hills, 7724 Landers, North Little Rock. Funeral will be May 22, at 11 a.m. at Griffin Leggett Rest Hills. Following the service the family will attend a brief private burial followed with an open invitation of fellowship at the home of their dad at 4770 Hwy.15 N, Lonoke.
Published May 21, 2019
OBITUARY SUBMITTED BY:
Griffin Leggett — Rest Hills
7724 Landers Road, North Little Rock, AR
Phone: 501-835-3515
http://www.griffinleggettresthills.com/