Jeffrey Lee McGarrah
Colcord, OK, 1966 - 2019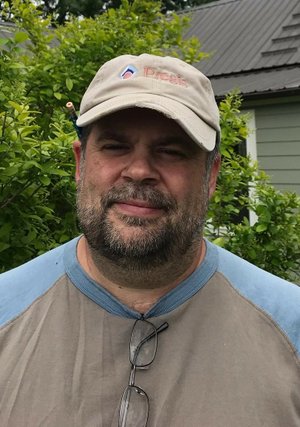 Jeffrey Lee McGarrah, 53, of Colcord, Oklahoma passed away on Monday, May 20, 2019 at Washington Regional Hospital in Fayetteville, Arkansas.
Jeff was born on February 10, 1966 in Siloam Springs, Arkansas to Larry and Connie McGarrah. He accepted the Lord as a child and was baptized under the concrete bridge on HWY US 412; he grew up in the Sequoyah community, he attended Boys State in Edmond, Oklahoma in 1983 and then went on to graduate from Colcord High School in 1984. He worked for La Z Boy for 32 years and was the Materials Manager. Jeff loved the Oklahoma Sooners, old trucks, old country music, antiques, learning about the Civil War history, working with wood and working on the farm. He also remodeled his home on the farm that was over 100 years old. In his spare time he enjoyed researching genealogy and ended up having around 11,000 names discovered in his line of family. Jeff will be remembered as someone who never met a stranger; but most of all, he cherished his family and friends.
He is survived by his parents, Larry and Connie McGarrah of Colcord, Okla.; his wife, Penny Peng-McGarrah of the home; three daughters, Katelyn Coon and husband Daniel of Siloam Springs, Ark., Elizabeth McGarrah of Siloam Springs, Ark., and Abby McGarrah of Pea Ridge, Ark.; one brother, Sam McGarrah of Wyandotte, Okla.; one niece, Kelsie Wilson of Fairland, Okla.; one nephew, Landon McGarrah of Collinsville, Okla.; one grandchild, Charlotte McGarrah, and many other family and friends.
Visitation will be held at the funeral home on Wednesday, May 22, 2019 from 5 p.m. to 7 p.m. The funeral service will be held on Thursday, May 23, 2019 at 10 a.m. at the Sager Creek Community Church in Siloam Springs, Ark. Pastor Gordon Topping will officiate the service. Burial will be held in the Oak Hill Cemetery under the direction of Backstrom-Pyeatte Funeral Home of Siloam Springs. To sign the online guestbook, please visit www.backstrom-pyeatte.com.
Published May 22, 2019
OBITUARY SUBMITTED BY:
backstrom - pyeatte funeral home
p.o. box 100, Siloam Springs, AR
E-mail: bpyeatte@yahoo.com
Phone: 479-524-3121