Billy "Bill" G. Abernathy
Mena, AR, 1934 - 2019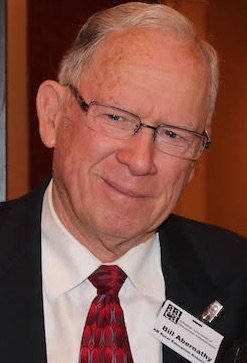 Billy (Bill) G. Abernathy passed away peacefully at home on Thursday, May 23, 2019 following a courageous battle with pancreatic cancer. Bill was born November 6, 1934, to Virdie Fryar Abernathy and Jesse Abernathy in Oden, Arkansas. He attended Oden High School where he was one of the top schoolboy basketball players in the state and lead teams that were the runner-up in 1953 and won the 1954 Arkansas state basketball championship. The coach of those teams was Ode Maddox, who shortly thereafter would become Bill's father-in-law and longtime mentor. Following graduation, Bill married his childhood sweetheart, Mary Jo Maddox, and attended Arkansas Tech University on a basketball scholarship where he obtained his degree in physical education in 1957. He later obtained a Masters degree in administration from the University of Arkansas.
Following graduation, Bill began a career in public education that would last over sixty years. He passionately believed that education was the best way to improve someone's life, and through his efforts as a teacher, administrator and in government service, worked tirelessly to help as many people as he could obtain a quality education and to help further educational opportunities in the state of Arkansas. After starting his career by spending one year as a teacher in California, he returned to Arkansas and taught at Oden for several years. He subsequently worked in administration in the Conway and Greenbrier public schools before becoming Superintendent of the Mena School District in 1972. In 1987, he became President of Rich Mountain Community College in Mena where he served for 13 years. He later was elected to the Arkansas State House of Representatives for three terms where he served as Chairman of the Education Committee. He then served as Executive Director of the Rural Arkansas Education Association until his retirement in 2017. In 2014, he was awarded a Champion of Rural Arkansas Lifetime Achievement Award by the Arkansas Rural Community Alliance.
Bill's greatest joy was his family - Mary Jo and their three children and spouses, seven grandchildren, one great grandchild, many nieces and nephews, extended family - and friends. He was happiest when spending time with loved ones at his beloved Lake Ouachita, where he taught many a youngster to water ski, and spent countless hours fishing. His fish frys were legendary and will be greatly missed but always happily and lovingly remembered by his family and friends. Bill was also a devoted hunter, spending many weekends over the past 50 years hunting deer and quail in western Arkansas with his sons and grandchildren.
He was a member of Christ Community Fellowship in Mena. He was also very active in several civic organizations including Lions Club in Mena.
He is survived by his wife of 64 years, Mary Jo Maddox Abernathy; two sons, Robert Abernathy and his wife, Ginger, of Bryant, Arkansas; Richard Abernathy, and his wife, Paula, of Bryant, Arkansas; daughter Melinda Abernathy Stevenson and her husband, John, of Houston, Texas; seven grandchildren - Renee Abernathy, Tyson Abernathy, London Abernathy Creel, Caroline Stevenson, Katherine Stevenson, Mary Claire Stevenson, and Annalise Robbins; one great grandchild, Saylor Abernathy; brother, Ted Abernathy; sister, Eva Jean Miller; and many dear nieces, nephews, and in-laws. He is predeceased by his father, Elder Jesse Abernathy; his mother, Virdie Fryer Abernathy; brothers Allen Abernathy; Larry Abernathy; Everett Abernathy; Eugene Abernathy; Isaac Abernathy; and his twin Bobby Abernathy.
A visitation and celebration of life will be held Monday, May 27, at Beasley-Wood Funeral home from 6–8 p.m. A service will be held Tuesday, May 28, at 2 p.m. at Christ Community Fellowship in Mena.
Pallbearers are Tyson Aberanthy, Josh Creel, Jeff Crumpton, John Maddox, Matt Maddox, Lee Maddox, Brandt Maddox, Stan Miller, and Phil Stevenson. Honorary pallbearers are Steve Abernathy, Al Gathright, David Maddox, and coffee shop friends.
The family requests any memorial contributions be made to Bill Abernathy Family Endowment Scholarship Fund at the University of Arkansas Rich Mountain or to Christ Community Fellowship in Mena. Online obituary at www.beasleywoodfuneralhome.com.
Published May 26, 2019
OBITUARY SUBMITTED BY:
Beasley-Wood/Billingsly Funeral Home
611 Janssen Avenue, P.O. Box 317, Mena, AR
Phone: 479-394-1310