David Bolsterli
Fayetteville, AR, 1959 - 2019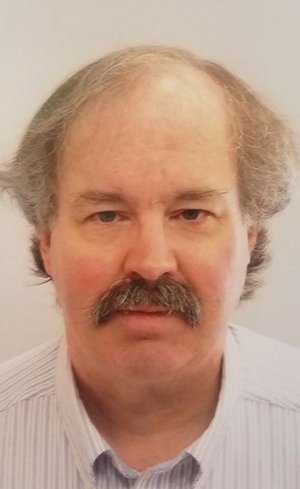 David Bolsterli died October 27, 2019 at Circle of Life hospice in Springdale after a brief battle with metastatic cancer. David was born in Minneapolis, Minn., December 20, 1959, the son of the late Dr. Mark Bolsterli and Dr. Margaret Jones Bolsterli, professor emerita at the University of Arkansas.
David was a very unusual man, with an incredible IQ and an enviable photographic memory. He was a member of MENSA and attended the University of Arkansas. He worked for 21 years at the United States Postal Service. A gentle giant, David was always ready and willing to help anyone who asked him. He was interested in a myriad of things, from calculus to Arabic, philosophy, physics, science, economics. He could quote statistics, facts, all kinds of information, and was never wrong about the date. He was a walking encyclopedia, and because he was so well-read, he had countless subjects at his beck and call. He could also work any computer or other electronic device. His co-workers at the Post Office admired his professionalism and devotion to his work. The family would like to express thanks and appreciation to those post-office co-workers for the caring they showed David at the end of his life.
David is survived by his mother, his brother, Dr. Eric Bolsterli and wife Claire, of Ft. Worth, Texas, his stepmothers, Judy Costlow of Santa Fe, N.M., and Dr. Olivia Sordo of Fayetteville, as well as cousins Ted and Robin Willis, whose help was invaluable, Lorri Daniels, Kathy Jones, and many others. As per David's wishes, there will be no memorial service.
In lieu of flowers, memorials may be made to Circle of Life hospice, 901 Jones Road, Springdale, Ark. 72762, or the animal shelters in either Fayetteville or Springdale. Arrangements by Epting Funeral Home of Fayetteville. Condolences: www.eptingfuneralhome.webs.com.
Published November 5, 2019
OBITUARY SUBMITTED BY:
Epting Funeral Home
709 N. Walton, Bentonville, AR
Find it at: corner of Walton and College
E-mail: eptingfuneralhome@inbox.com
Phone: 479-273-3443
http://www.eptingfuneralhome.webs.com/