Henry Homer Fulbright, Jr.
Searcy, AR, 1928 - 2019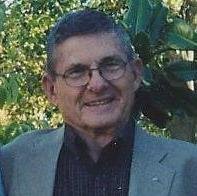 Henry "Hank" Homer Fulbright Jr. was born on May 28, 1928 in Sulphur Rock, Arkansas and died November 6, 2019, in Searcy. He was born to Homer and Wilma Fulbright of Searcy. He had an adventurous childhood, spent with his parents in various towns across Arkansas. They called Griffithville, Russell, and West Point home before finally settling in Searcy in 1940. Even as a boy, Hank was involved in Searcy life. He joined the Boy Scouts and rose to the rank of Eagle Scout. Hank obtained a Bachelor's Degree from Harding University and later went on to obtain a Masters Degree from Oklahoma State University.
Hank loved to sing. While singing in the Searcy First United Methodist Church choir, he became smitten with the piano player, Mary Frances McSpadden of Cave City. They had their first date after Sunday School at Headlee's Drug Store on the court square. Even before they married, Hank was devoted to her and remained so for the next 64 years. As a young married couple, Hank served in the United States Air Force and retired as a Major. His career took them to live in Alabama, Ohio, and Oklahoma. Hank and Mary Frances eventually returned to their home town of Searcy.
One of the driving forces in his life was a strong commitment to serving the community. As a young man, he became a member of the Masonic Lodge #49 and then achieved rank of Consistory 32 degree. He said it was one of his proudest accomplishments and a reflection of the dedication and purity of heart required.
Hank was a tireless patriot and a veteran of the Korean War and Vietnam Conflict. Even later in life, his strong and selfless commitment to serving and honoring other war veterans led him to serve in a number of key positions, including District Commander, with the American Legion Post #350 in Searcy. As the American Legion Memorial Committee Chairman and with the help of his wife, Mary Frances, Hank successfully promoted the fund raising and erection of the White County Veterans Memorial installed in front of the White County Courthouse in downtown Searcy.
Hank could "spin a yarn" like no one else and always with a great deal of humor that would leave one crying with laughter! Thankfully, he leaves those who knew and loved him a treasured legacy of hilarious stories and antics from his childhood, through the books he authored, titled "Tubby, Volume I" and "Tubby, Volume II".
Hank loved to garden and always had plenty of fresh vegetables to share. He loved to experience new things, particularly those that involved bonding with nature, from childhood adventures with his dog, Rex, to "roughing it" in the one-room cabin he built for his young family on Lake Eufaula in Oklahoma. Over the years, there was the joy (and frustration) of owning horses for his three older daughters, then raising rabbits with his youngest daughter. Whatever the activity, the joy for him came from experiencing it with his family. And always with a sense of enthusiasm and excitement!
Those of us who knew and loved Hank will remember him with tremendous gratitude for the endless supply of wonderful memories. We will celebrate with joy the life he lived and shared with us.
Hank is pre-deceased by his wife, Mary Frances McSpadden Fulbright, granddaughter, Jennifer Blakley, his eldest daughter, Stephanie Stafford, his parents, Homer and Wilma Fulbright, and by his older brother, Jack Fulbright, who died in infancy.
He is survived by daughters, Sheralyn Osborn of Kansas City, Mo., Suellen Fulbright of Milford, N.H., and Stacey Pectol (Dale) of Little Rock, Ark., granddaughter Liza Workman of Warner, Okla., grandsons, Robert Rice of Guy, Ark., Matt Leger of Milford, N.H., Drake Pectol of Stillwater, Okla., who followed in his grandfather's footsteps to attend OSU, Luke Pectol of Little Rock, Ark., as well as eight great-grandchildren and three great-great-grandchildren.
A visitation will be held from 5:30-7:30 p.m. on Friday, November 8, 2019 at Roller-Daniel Funeral Home in Searcy. The funeral service will be at 1 p.m. on Saturday, November 9, 2019 at First United Methodist in Searcy. Interment will follow at White County Memorial Gardens.
Published November 7, 2019
OBITUARY SUBMITTED BY:
Roller-Daniel Funeral Home
411 E. Race Avenue, P.O. Box 97, Searcy, AR
Phone: 501-268-3546
http://rollerfuneralhomes.com