Lila Faye Lampkin
Fayetteville, AR, 1925 - 2019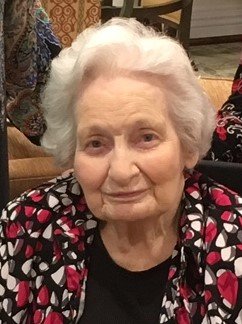 Lila Faye Lampkin, devoted daughter, sister, aunt and friend passed away on November 17, 2019, in Fayetteville, Arkansas. Lila was born February 22, 1925 in Belleville, Arkansas.
She was preceded in death by her parents Dewey Wilson and Verna Frazier Lampkin and her sister Ruby Lampkin Richardson. She is survived by her sister, Alene Lampkin White of Montgomery, Alabama and brother, Hoyt Lee Lampkin of Bluffton, Arkansas; along with eight nieces and nephews, Marcia White Rucker (husband John) of Montgomery, Alabama, Debbee Richardson Shaffer (husband Steve) of Oro Valley, Arizona, Lisa Lampkin Shelby (husband Phillip) of Fayetteville, Misty Richardson Hibbard (husband Bill) of Claremont, California, Byron Lampkin of Bluffton, Gary Richardson (wife Robyn) of St. Louis, Missouri, and Chris Lampkin (wife Leslie) of Paris, Texas and numerous great-nephews and nieces.
She was a graduate of Danville High School and Draughon School of Business. She was a member of First Christian Church, Little Rock and held offices on the Board of Directors and the Christian Women's Fellowship.
Lila devoted 41 years in work for the Blind. She was integral in the opening of Arkansas Enterprises for the Blind (now known as World Services for the Blind) and served as Administrative Assistant for AEA until her retirement in 1988. She was a life member of the American Education and Rehabilitation Services for the Blind (AER), served on the Board and as an Officer. Lila was a member and Officer of both the State and Regional Chapters of AER. She was also a member and Officer of Arkansas Chapter of National Society for the Prevention of Blindness, a member of American Council of the Blind, Altrusa Club of Little Rock, Radio Reading Service for the Blind Board and life member of Beta Sigma Phi Society. Lila received the Superior Services Award and an award for Outstanding Services to Blind People from AER.
Lila was a talented cook and loved to entertain. She enjoyed many hobbies including knitting, playing bridge, gifting crafts she made and gardening. After her retirement she joined numerous bridge clubs and a quilting group at Church. Most of all Lila enjoyed helping friends and family. She set a wonderful example for all she encountered. She moved from her longtime home (of 64 years) in Little Rock to Butterfield Trail Village (BTV) in Fayetteville in 2010. She dearly missed her friends from Little Rock but was blessed to have made many new ones at Butterfield. Her family extends their heartfelt thanks to all of the wonderful caregivers at BTV. She loved them as they loved her.
A memorial service will be held at 11 a.m. Friday, November 22nd at the Butterfield Trail Village Performing Arts Hall. A private graveside service will follow at 3 p.m. at Upper Spring Creek Cemetery in Belleville. In lieu of flowers, the family requests memorials be sent to: First Christian Church, 14411 Taylor Loop Rd., Little Rock, Atk. 72223; World Services for the Blind, 2811 Fair Park Blvd., Little Rock, Ark. 72204; Upper Spring Creek Cemetery, 12730 Spring Creek Road Belleville Ark. 72824. Arrangements by Cornwell Funeral Home Danville. Online guestbook and condolences at www.cornwellfuneralhomes.com.
Published November 20, 2019