Ruby Marie Henderson
Salem, AR, 1926 - 2019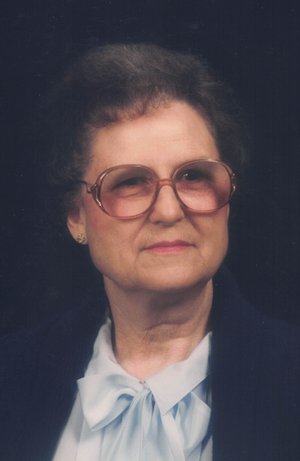 Ruby Marie Henderson was born to Thomas George and Mable (Tiner) Huie on April 3, 1926 in Conway County, Plumerville, Arkansas. Ruby married Claude Elmer Henderson on July 27th, 1943 and to this union two children were born.
Ruby spent her working years as a hair dresser (beautician) in Tupelo, Arkansas. She was a member of the Salem First Baptist Church in Salem, Arkansas. She enjoyed traveling, music shows live or on TV and visiting with her family and friends.
She leaves to mourn her passing; two daughters, Claudia Stone of Salem, Arkansas and Adele Madden (Hervey) of Hickory Ridge, Arkansas; five grandchildren, Sandy Hodges (John) of Salem, Arkansas, Robin Stone (Brock York) of Salem, Arkansas, Janet Gatschenberger (Tom) of Springfield, Illinois, Tracy Madden Carter of Harrisburg, Arkansas and Dr. Mac Madden (Susie) of Judsonia, Arkansas; fourteen great grandchildren; fourteen great great grandchildren; sister, Helen Lambert of Searcy, Arkansas; two brothers, Thomas Huie (Betty) of Augusta, Arkansas and Bill Huie (Mary) of Austin, Arkansas; nieces, nephews, and many other relatives and friends. She is preceded in death by her husband (Claude Henderson), parents and two sisters (Emma Lee Cook and Gladys Pendergist).
Funeral services will be 11 a.m. Wednesday November 20, 2019 at the Salem First Baptist Church in Salem, Arkansas with Bro. John Hodges and Bro. Tom Doty officiating. Visitation will be 10 a.m. until time of service on Wednesday, November 20, 2019 at Salem First Baptist Church. Pallbearers will be Dr. Mac Madden, Austin Carter, Jeremy Ealey, Joshawa Hodges, Josh Guffey, and Tim Huie. Honorary pallbearers are Thomas Huie, Bill Huie, Dickey Pendergist, Bill Cook, Judd Huie, Hervey Madden, Tom Romine, Josh Smithee, Jason Miller, Tom Gatschenberger, and Brock York. Memorials may be made to the Salem First Baptist Church in Salem, Arkansas or the American Cancer Society. Arrangements are under the direction of Barker Funeral Home of Salem, Arkansas. Guests may sign an online registry @www.barkerfuneral.com.
Published November 20, 2019