Mary Lowe Good
of Little Rock, AR, 1931 - 2019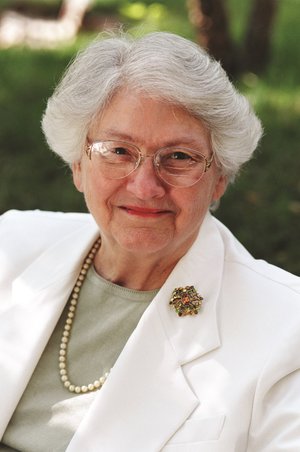 DR. MARY LOWE GOOD leaves behind an unmatched career and an award-winning legacy.
Little Rock, Arkansas – November 20, 2019 – Dr. Mary L. Good's death at age 88 in Little Rock, Arkansas, ends her unmatched career and leaves behind an award-winning legacy in science, academia, industry and governmental leadership.
Dr. Mary Lowe Good has died peacefully at her home at age 88 in Little Rock, Arkansas. She was recognized nationally and internationally in high-level positions in the academic, industrial and government sectors, having been a strong proponent of science, science education and women in science. She leaves behind an unmatched career of passionate work in academia, industrial research and government.
She was born in Grapevine, Texas on June 20, 1931. Her parents, John Willace Lowe and Winnie Mercer Lowe, were country school teachers. She spent the early part of her life in central and south-west Texas. The family moved to Kirby, Arkansas when she was in junior high school; later moving to Willisville, where she completed high school. She went to college at Arkansas State Teacher's College (now University of Central Arkansas), and graduate school at the University of Arkansas, Fayetteville, completing her doctoral degree in inorganic chemistry at age 24.
She began her career at Louisiana State University, Baton Rouge; later becoming part of the founding faculty of LSUNO (now University of New Orleans). She was the second faculty member of UNO to receive the distinction of being designated Boyd Professor. Later she moved on to serve as the dean of the School of Engineering at LSUBR for two years prior to accepting a management position at Universal Oil Products in Chicago, and then moved on to AlliedSignal, Inc. in Morristown, N.J., as their senior vice president for technology. She was then recruited by the Clinton administration to serve as Under Secretary for Technology in the U.S. Department of Commerce, and served for a time as acting Secretary of Commerce.
Her Department of Commerce role included leading the Clean Car Initiative in developing today's hybrid gas-electric cars, encouraging the government to fund research into the hybrid power technology in widespread use today. During the terms of Presidents Carter and Reagan, Dr. Good also served on the National Science Board, including a chairmanship role for the organization.
Dr. Good was the first woman ever elected to the board of the American Chemical Society, where she also served as the society's president. Dr. Good's reputation is especially prominent in the field of inorganic chemistry, having contributed to the understanding of chemical catalysts.
While vice president and director of research for the Engineered Materials Research division at the Signal Research Center (later Allied-Signal), she oversaw the major project of determining whether the emerging technology of the Global Positioning System (GPS) had an application for the general public. Its widespread use today is due in part to her leadership role at this crucial stage.
The 143,000-member American Association for the Advancement of Science (AAAS) elected Dr. Good in 2001 to serve as the organization's President. In 2004, Dr. Good was recipient of the National Science Foundation's highest honor, the Vannevar Bush Award. Two of her more than 27 awards also include the NSF's Distinguished Service medal and the esteemed ACS Priestly Medal. She was also the 6th Annual Heinz Award Winner. She was the first female winner of the AAAS's prestigious Philip Hogue Abelson prize for outstanding achievements in education, research and development management, and public service, spanning the academic, industrial and government sectors. Dr. Good received 21 honorary degrees, and was voted one of the "Top 100 Women of Arkansas" by Arkansas Business.
Dr. Good served in recent years as Dean Emeritus (Founding Dean) of the Donaghey College of Engineering and Information Technology (E.I.T.) at the University of Arkansas -Little Rock. E.I.T. at UA-Little Rock was organized in 1999 and grew significantly under Dr. Good's passionate leadership.
Dr. Good also served on executive boards at Rensselaer Polytechnic Institute, Biogen Idec, Cincinnati Milacron, Ameritech, the Little Rock Technology Park, St. Vincent Health System, the Acxiom Corporation and Delta Bank and Trust.
In addition to her outstanding professional career, Dr. Good was also a devoted wife, mother, grandmother and great grandmother. She was wife of deceased spouse Billy Jewel Good and sister of deceased Dr. Betty Lowe. Dr. Good is survived by a brother, John Lowe, a sister, Margaret Bogle; by two sons, Billy Good and James Good; four grandsons, Maxwell Good, Winston Good, William Good, and Walker Good; and two great-grandchildren, Oliver Good and Waverly Good.
Her visitation and funeral service will be at the Pinecrest Funeral Home, 7401 Hwy. 5 N (Stagecoach Rd), Alexander, Ark. Visitation will be Mon. November 25, 6-8 p.m.; funeral service Tues. November 26, 2 p.m. In lieu of flowers, please consider a memorial gift to The Girls of Promise program of the Arkansas Women's Foundation, the Arkansas Repertory Theatre, or the Arkansas Symphony Orchestra.
Published November 24, 2019