Leta Mae Garner Hamblen
Farmington, AR, 1931 - 2019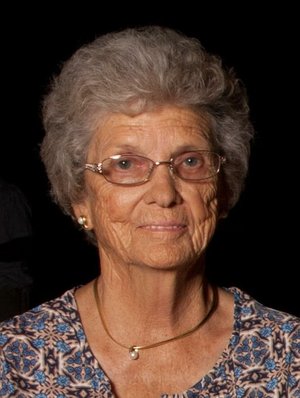 Leta Mae (Garner) Hamblen 88, of Farmington Arkansas passed away on October 2nd, 2019 at Washington Regional Medical Center surrounded by her family. She was born January 9th, 1931 in Muldrow, Oklahoma to Harley and Lena Garner. She was one of ten children.
After surviving the depression of the 1930s, the Garner family worked a large peach farm in Clarksville, Ark. In 1943, they relocated to Farmington, Ark. to a house east of the Hamblen family farm where she met the love of her life, Jack Hamblen. Jack and Leta dated until he was drafted into the war in 1944. After he returned, they were married in the Walnut Grove Church. A marriage that would last 64 years until Jack's passing in 2013. Early in the marriage a house fire would destroy all their possessions. Afterwards, Leta worked outside the home at jobs including Sears and Mcllroy Bank to help support her family and rebuild. Leta gave up her banking career to focus on raising her two children, Jackie and Linda. Leta loved and actively cared for her family, home, and the Hamblen farm the rest of her life.
Leta was an active member of the Walnut Grove Presbyterian Church. She loved the Walnut Grove Church and community. Leta enjoyed working in her flower beds and was devoted to her family. She was a loving sister, mother, grandmother, and great-grandmother. She was preceded in death by her parents, William Harley and Lena Garner; her husband Herbert Jack Hamblen; three brothers Lewis (Buddy), Billy, and Glen Garner; three sisters, Dorothy (Dot) Hamblen, Reba Tanhehill, and Leola Woodard; and her son-in-law Kelley Lewis. She is survived by her son, Gary Jack Hamblen and wife Faye; her daughter, Linda Marie Lewis and husband Gene Jones; her grandsons, Gary Hamblen and wife Kellye, and Kevin Lewis and wife Ashley; great grandchildren, L.J., Abigayle, and Sarah Hamblen; and three brothers, Bobby Garner and wife Peggy, Paul Garner and wife Marcia, and Harley Garner Jr. and wife Becky.
The Family will host visitation on Sunday October 6th from 1:30 to 3 p.m. at Luginbuel Funeral Home in Prairie Grove. Funeral services will be held Monday, October 7th at 10 a.m., at Chapel at Walnut Grove (Walnut Grove Church) on Hwy. 170 in Farmington, Arkansas. Burial will follow at Cemetery Hill in Farmington, Arkansas. Memorials may be made to Cemetery Hill Cemetery c/o Luginbuel Funeral Home, P.O. Box 193, Prairie Grove, Arkansas 72753.
Published October 5, 2019
OBITUARY SUBMITTED BY:
Luginbuel Funeral Home
115 N Neal, Prairie Grove, AR
Phone: 479-846-2141