James Adams Collier
Rogers, AR, 1932 - 2019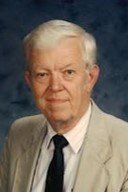 As this is written, the wife of James Adams Collier Sr. plays the piano for her husband of 65 years; the notes soften the task at hand.
James Adams Collier Sr. passed into Glory on October 7, 2019, just 10 days shy of his 87th birthday. We celebrate his many professional accomplishments and charitable works, but above all else he will be remembered as a loving husband to Anne W. Collier, father to Lelia, James, Jr., and Rebecca, and grandfather to Peterson, James III, Andrew, Jonathan, Evan, and Anastasia, all of which survive him. He is also remembered by his loving nephews, sons of his dear sister, James and Jess Reeves.
Jim and Anne began dating in high school in Pine Bluff, Ark., and continued as a couple to the University of Arkansas where Jim graduated with a Bachelors in Industrial Engineering. Marrying soon after college, they moved to Florida where Jim served in the USAF during the Korean Conflict. He was Honorably Discharged from duty in 1956. Thereafter he continued his education, receiving a Masters in Industrial Engineering at Purdue University. His hard work, professionalism, and intellectual capability allowed him to flourish at General Electric and other global industrial firms. He has held positions as Director of Manufacturing, Quality Control Manager, and Materials Consultant. He is a Registered Professional Engineer, a member of the National Association of Industrial Technology, and a past Chapter President of the Society of Manufacturing Engineering.
After the corporate world, Jim became an entrepreneur, opening a sports retail outlet, and later a pressure washer manufacturing operation, then graduated to academia, becoming the Director of the Industrial Technology Program at Southern Arkansas University. After "retirement" he worked until his mid 70's as an adjunct professor for the University of Arkansas in their Masters in Engineering Degree Program.
However, the real metal of this man is seen in what he gave his community: time, vision, passion. His greatest pride was working with the Boy Scouts of America, receiving their Silver Beaver Award for his work as Pack/Troup leader, District Chairman, and Council Vice Chairman. Even here on Beaver Lake as a retiree, Jim single-handedly promoted, funded, and instituted the Sea Scouts of Beaver Lake.
Just as youth soccer started in the bigger cities in the 1970's, Jim realized the value of the sport for youth of all ages, income levels, and skill levels. So in tiny Warsaw, Indiana, Jim petitioned, organized, and started the city's continuing soccer program.
As he aged, Jim turned his community activism toward mentorship, the greatest of these being his membership with SCORE, a nationwide BBB mentorship program where a manufacturing engineer, for example, would provide free counseling to a new or growing manufacturing concern. He was also an AARP Driver's Ed Instructor, and an AG&F Boating and Safety Instructor. He was on the Martin Cemetery board and the Rocky Branch School House board.
As a man of intense moral conviction, Jim has also been a member of a church home wherever he lived, taking on leadership roles there, of course. He is currently a member of Central United Methodist Church, but fully enjoys his "lake church" home at Bland Chapel.
A Celebration of the Life of this amazing man will be held at: Central United Methodist Church, Saturday, October 12, 2019, family visitation 10 a.m to 11 a.m. with services at 11 a.m. Memorial gifts to the following are appreciated: Rocky Branch Fire Department, 19862 AR-303, Rogers, Ark. 72756; Central UMC Music Ministry, 2535 W. New Hope Road, Rogers, Ark. 72758.
Arrangements by Benton County Funeral Home, 306 N. 4th, Rogers; Online condolences to www.bentoncountyfuneralhome.com.
Published October 9, 2019
OBITUARY SUBMITTED BY:
Benton County Funeral Home
306 N. 4th Street, Rogers, AR
Phone: 479-636-6700
http://bentoncountyfuneralhome.com