Howard J. Barnhard
Roland, AR, 1925 - 2019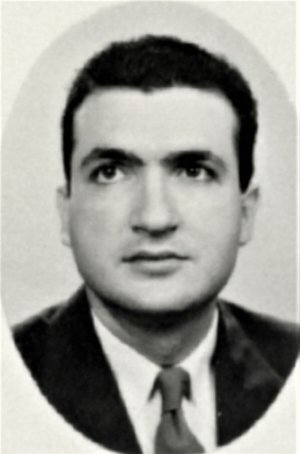 Dr. Howard Barnhard 94, of Roland, Arkansas passed away on October 7, 2019, while surrounded by his family and friends. He was born in New York City, New York on July 18, 1925 to the late Harry and Golda Barnhard.
Dr. Barnhard is survived by his wife of 32 years, Celia Barnhard; his three children, Mark Barnhard (Diane), Ann McQueen (Brock), and Seth Barnhard (Pam); his two Stepsons, Wesley Barrow, and Brent Barrow (Dennise); His seven grandchildren, Ian McQueen (Erin), Megan Crowe (Nick), Devon Barnhard, Adam Barnhard, Parker Barrow, Payton Barrow, and Presley Barrow; his two great daughters, Corinne McQueen and Laurel McQueen; his five first cousins Marcy Sinert (Stan), Earl Temchin (Maureen), Jeff Fields (Colleen), Ed Fields, and Kathy Gregg (Peter).
After graduating from the University of Miami at the age of 18, the U.S. Navy, which he joined the previous year, sent him to the Medical University of South Carolina (MUSC), where he graduated at the age of 24. He came to the University of Arkansas Medical Sciences (UAMS) in 1954. In 1960, he became the youngest Chairman of Radiology in the country. He resigned the Chairmanship in 1973, to become the first Director of the Department of Planning, Organization and Development at UAMS, where he created the first campus plan and added several educational and research facilities to the campus. Dr. Barnhard was the longest tenured professor at UAMS at 55-years, where he loved teaching and working with medical students, interns and residents.
A few additional accomplishments for Dr. Banhard included the following: developed the combined image slicing technique that is the basis for current CT scanning today; worked with programmers to develop the first computer-based Residency "Match Program" used in the United States; CARTI was the brainchild of Dr. Barnhard, created during a car trip to a radiology meeting at Pointe Clear Alabama.
In addition to serving in the medical field, he was passionate about serving his country. He was a proud Navy veteran of WWII. He retired as a Commander with 23 years of service. He served as the Commandants Representative at UAMS.
Dr. Barnhard nominated his friend and fellow Navy officer Dr. Winston (Win) Shorey to the search committee for the Dean of College Medicine at UAMS. Dr. Shorey was awarded the position in 1961.
Dr. Barnhard had a love for music. He played Viola with the Arkansas Symphony Orchestra and met with fellow doctors monthly in a music listening group for close to 50 years. He also had a love for the arts as seen in his numerous years of support to the Arkansas Repertory Theater in Little Rock. Dr Barnhard and his wife could often be found traveling the world visiting new places and meeting new people, their last trip was to South America at the age of 91 where they averaged walking 3 miles a day. He was also an avid Arkansas Razorback football fan and was a long-time season ticket holder. He has also chaired the Central Arkansas Transit Authority.
The Visitation for Dr. Howard Barnhard will be held from 6 p.m. to 8 p.m. Friday, October 11, 2019, at Roller-Chenal Funeral Home (13801 Chenal Parkway, Little Rock, Ar 72211). His Memorial service will be held Saturday, October 12, 2019, at 10:30 a.m. at Winfield United Methodist Church (20100 Cantrell Rd, Little Rock, Ark. 72223). Interment will be held at a later date at the Arkansas State Veteran's Cemetery in North Little Rock with full military honors.
Memorials can be made to the Howard J. Barnhard, M.D., UAMS Radiology Resident Research Endowment (4301 W. Markham Street, #716, LR, Ark. 72205), the Celia K. and Howard Barnhard, M.D., MUSC FACR Endowment Scholarship in Family Medicine (18 Bee Street MSC450 Charleston, South Carolina, 29425), or the Arkansas Symphony Orchestra (Arkansas Symphony Orchestra, P.O. Box 7328, Little Rock, Ark. 72217). To sign the online guest book, please visit, www.rollerfuneralhomes.com/chenal.
Published October 10, 2019
OBITUARY SUBMITTED BY:
Roller-Chenal Funeral Home
13801 Chenal Parkway, Little Rock
Phone: 501-224-8300
http://www.rollerfuneralhomes.com/chenal