Marshall W. Kenny, Jr.
Hot Springs, AR, 1948 - 2019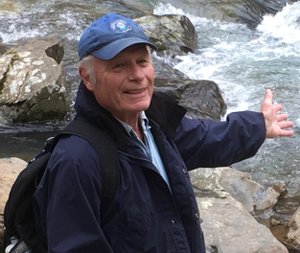 Bud was born Marshall W. Kenny Jr. in Painesville, Ohio, on September 23, 1948. He departed on his final adventure on Wednesday, October 2, 2019. He spent most of his formative years in Oklahoma, graduated from East Central High School in Tulsa in 1966, then attended Central State College in Edmond, Okla., on scholarships for music, theater, broadcasting and creative writing. For three years he was a popular rock and roll disc jockey in the Oklahoma City area.
Bud has walked across this country twice. From 1974 - 1977 he walked from eastern Pennsylvania with a pack pony and dog, through the northern states to the Oregon Coast, then southward and finally east to his mother's home in Hot Springs, Ark, covering over 8,000 miles. He only intended to visit, but Hot Springs quickly became Home.
For much of the next 40 years he worked as a tour guide by Duck, bus, carriage or trolley. In 1983 Bud built "The Mule Line" a 20-passenger trolley pulled by a team of mules providing tours of the historic district and Hot Springs National Park. Bud has also been a popular master of ceremonies at many events with his booming voice and strong stage presence. He was a founding member of the Downtown Merchants Association and has generously volunteered his time to mentor young people and promote the arts community.
In 1997 he opened "The Poet's Loft," a coffee house/performance venue in the heart of Hot Springs. There he hosted poetry readings and slams, musical events, plays and other performance arts programs. Bud has been involved in producting numerous poetry festivals where he worked with many nationally and internationally acclaimed poets. He founded and produced the Arkansas Grand Slam, which for 15 years awarded the world's largest prize for an individual performance poet. Bud has been a featured poet in numerous venues across America and competed in the 1998 and 1999 National Poetry Slams. In 1989 he started Wednesday Night Poetry, which is ongoing today and recognized as America's longest-running weekly poetry reading.
In 2001 Bud and his former wife Patricia left Hot Springs with their mule Della and walked to the coast of Maine. Della pulled a pack-cart that generated its own electricity and opened as a stage, allowing them to produce shows along the way. Bud wrote a book about their trek titled, Footloose In America - Dixie to New England, available through Amazon.com.
Bud is survived by his loving partner, Gin Hartnett. By his siblings: Dave Kenny of Willoughby, Ohio, Happy Boulder of Brevard, North Carolina, Maralyn Radice of Loveland, Colorado, Martin Kenny of Carthage, North Carolina, Max Marzonie of Hot Springs, Arkansas, and Lorrie McLauchlan of Brevard, North Carolina. And a host of extended family and friends.
A celebration of his life will be held at the Superior Bathhouse in downtown Hot Springs on November 1st at 7 p.m., for all wishing to honor his memory. In lieu of flowers, please perform a Bud-ly act in his memory: Take a hike. Get close to nature. Write a poem. Shake a stranger's hand. Volunteer in your community. Mentor and encourage a young person. Love with passion and intensity. See the world, slowly. Follow your dreams. Online guestbook: www.cremationservicesofarkansas.com.
Published October 13, 2019
OBITUARY SUBMITTED BY:
Moore's Jacksonville Funeral Home
1504 Loop Road, Jacksonville, AR
Phone: 501-982-2136
http://www.mooresjacksonvillefuneralhome.com