Mary Elizabeth Washburn
of Little Rock, AR, 1925 - 2019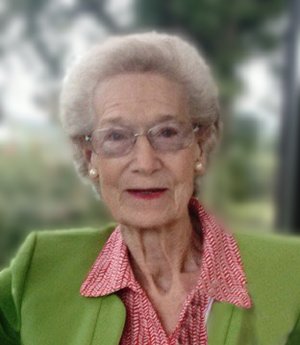 A graveside service honoring the life of Mary Elizabeth Bowman Washburn will be held at 1 p.m., Tuesday, October 15, 2019 at Centuries Memorial Cemetery in Shreveport, Louisiana. Officiating the graveside service will be Reverend Mimi McDowell. An additional memorial service will be held at 1 p.m., Saturday, October 26, 2019 at Second Presbyterian Church, Little Rock, Ark. Officiating the memorial service will be Reverend Steve Hancock.
Mary Elizabeth Washburn passed away on Thursday, October 10, 2019 in Little Rock, AR where she had lived for five years. Born August 8, 1925 to Emmie and Nead Bowman, she lived her early years in Bossier City, LA.
She met her future husband, the late Harry Washburn, on New Year's Eve, 1942 at the Barksdale AFB Officer's Club. They married shortly after, and as a young war bride, she worked at Delta Airlines. Mary was a proud member of the Greatest Generation, and aided the war effort by facilitating travel plans for soldiers on their way to their assignments.
Upon Harry's return from Italy, she began her next phase as a 50's mother and supportive wife. She became an accomplished cook, welcoming family and friends to share her homemade chocolate sauce, spaghetti and meat balls, cheese wafers and famous brownies.
Mary enjoyed many exciting trips with daughters and their families to Taos, New Orleans, and Europe. She could tell a good story or kill a snake if needed. While always well-groomed, she set an example for the girls in the family.
She was a kind soul who said Edward, her grandson with Down Syndrome, loves the way God intended us all to love. Rest in Peace knowing you are well loved.
Mary was preceded in death by her parents, husband, and her brother, NY Bowman, Jr. She is survived by her daughters, Beth Johnson and husband, Don, of Little Rock, AR, Amy McIlroy and husband, Ed, of Doyline, LA; grandchildren, Rob Johnson and wife, Stacy, of Hinsdale, IL, Edward Johnson of Little Rock, AR, Andy Johnson and wife, Nicole, of Little Rock, Ar., Emily Cromwell Archer and husband, Richard of London, England, Liz Cromwell and partner, Justin Ackin, of Oklahoma city, OK; great grandchildren Emma and Cooper Johnson of Little Rock, Ark., Jaden Johnson of Hinsdale, IL, and Florence Archer of London, England.
The family suggests memorials be made to Access Group, Inc., 10618 Breckenridge Dr. ,Little Rock, Ark. 72211 or the charity of your choice.
Published October 13, 2019