Betty Biddy Maddox
of Little Rock, AR, 1931 - 2019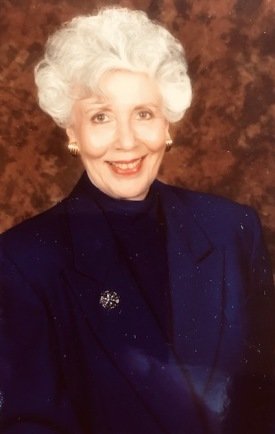 Betty Biddy Maddox (lovingly known as Gee Gee) of Little Rock, Arkansas, died October 12, 2019. She was born on June 8, 1931, in Bruce, Mississippi, to the late Jewell and Percy Biddy. She graduated from Little Rock Senior High School in 1948. She graduated Magna Cum Laude from Vanderbilt University in 1953.
In 1955 she worked at Sumner County Health Department, Gallatin, Tennessee, as a public health nurse. Her adventures as a public health nurse in the 1950s included teaching new mothers how to sterilize baby bottles (which were really whiskey bottles) and demonstrating for them how to care for premature babies (using a chicken incubator). In addition she was bitten by a dog while delivering Christmas baskets, waded creeks to check on stroke patients, and visited tuberculosis patients who made moonshine. These people probably taught her more than she taught them. They must have liked her because one family named their baby after her.
In 1964 she returned to Little Rock with her four sons, and four years later she joined the staff of the Visiting Nurses Association of Pulaski County, which later became Visiting Nurses Association of Arkansas (VNA). There she worked as a field nurse and staff coordinator. In 1976 she became CEO and helped developed VNA from a small home health agency into the largest freestanding agency in Arkansas. From 1985 to 1994, she was also CEO of Visiting Nurse Corporation and St. Vincent Homecare.
Betty was a leader and advocate of home care at both the state and national levels. She was the first president and one of the founders of the Home Care Association of Arkansas. She was the first recipient of the association's Lifetime Achievement Award in 1995. She participated in the founding of VNA of America and the National Association for Home Care. Governors, senators, congressman, and government agencies called upon her as an expert on healthcare and aging issues. She testified before a committee of the U.S. Senate on healthcare reform in Washington, D.C. In 1996 she was honored along with four physicians for outstanding contribution to healthcare in our community.
During retirement Betty took the skill of knitting learned at age 5, and in 2005 help develop and coordinate Caring Hands Prayer Shawl Ministry at St. James United Methodist Church. Over 2,200 prayer shawls have been given to individuals experiencing a crisis in their lives.
Betty considered her greatest accomplishment (far beyond having a successful career) raising her four sons. She said what one could not think to do, the others could. Their home was filled with friends and animals. Dogs, cats, rabbits, fish, ducks, fishing worms, and even a snake they tried to hide under the front porch, were all a part of the menagerie. She frequently told people how blessed she was to have such a wonderful family of four sons and daughters-in-law and eight grandchildren.
In addition to her parents, Betty was preceded in death by her sister, Bonnie Biddy Arnold; the father of her children, John Shepherd Maddox Jr.; and her oldest son, John Shepherd Maddox III. She leaves behind three sons all of Little Rock; Scott Maddox (Anna Leigh) and their daughter, Lindsey of Los Angeles, California; Dr. Randy Maddox (Cindi) and their children, Peyton (Paige) of Little Rock, Harrison of Portland, Oregon, Elizabeth Claire of Little Rock; Richard Maddox (Jennifer) and their children Patrick of Washington, D.C., and Daniel of Little Rock. She is also survived by her daughter–in-law Chaney Maddox and her children, Lilly and Graham all of Little Rock. In addition Betty is survived by her nieces, Bonnie Jean Taylor and Deanna Davis and their families.
The family would like to express their extreme gratitude for the loving assistance given by Tracy Dudderar during the past 6 1/2 years. Betty dubbed her Madame Chairman, as there wasn't anything Tracy wasn't willing to do it for Betty.
In lieu of flowers, contributions may be made to Caring Hands Prayer Shawl Ministry of St. James United Methodist Church, 321 Pleasant Valley Dr., Little Rock 72212; or Pulaski County Humane Society, 14600 Colonel Glenn Rd., Little Rock 72210. Visitation will be held Thursday, October 17, 2019, from 1 to 2:30 p.m., at Ruebel Funeral Home, 6313 West Markham St., Little Rock, with service to follow at 2:30 p.m. The Reverend Greg Schick and Jenny Smith will officiate. A private family burial will follow. www.ruebelfuneralhome.com.
Published October 15, 2019
OBITUARY SUBMITTED BY:
Ruebel Funeral Home
6313 West Markham Street, Little Rock, AR
Phone: 501-666-0123
http://www.ruebelfuneralhome.com