Charles Friend "Charlie" Sego
Fayetteville, AR, 1942 - 2019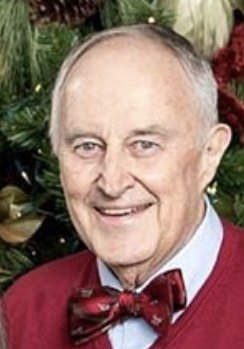 Charles Friend (Charlie) Sego, 77, passed away peacefully surrounded by his family on Saturday, October 12, 2019, at the Willard Walker Hospice Home. He was born in Wichita, KS, to Presley and Virginia (Honey) Friend Sego on January 25, 1942, as a new member of the Osage Nation Native American tribe.
In 1960, he graduated from College High School in Bartlesville, Okla. and attended the University of Oklahoma, graduating in 1964 with a Bachelor's degree in Business Administration. He married Frances Tabor on January 20, 1963, in Tulsa. His summers during college were spent working for Cities Service Oil Co. in the oil fields of El Dorado, Kan.
Charlie's business career began in Tulsa at Shell Oil Co., moving to Little Rock in 1965 to work as a sales representative for Texaco. In 1968, Charlie joined the IBM Corp. working in sales and management. Over the next 21 years, he worked for IBM in Little Rock, Franklin Lakes, N.J., and Louisville, Ky., moving to Northwest Arkansas in 1979. He retired from IBM in 1989.
In 1980 Charlie and Frances founded the Duck Club Gallery on North College in Fayetteville, operating the business for 35 years. In 1989 he purchased the Angler's Den Orvis dealership and rebranded the business as Bancroft & Tabor Clothing & Angler's Den.
Within the community, Charlie served on Fayetteville Chamber of Commerce committees, was a member of the Rotary Club of Fayetteville (President 1994-95), and a member of Kappa Alpha Order at OU. He also volunteered at the Ozark Literacy Council and served on the Fayetteville Parks and Recreation Board.
As a lifelong sports enthusiast, Charlie coached Best Sports 14-15 yr. old Babe Ruth baseball teams for many years. His favorite pro teams were the St. Louis Cardinals and Dallas Cowboys.
As a member at Fellowship Bible Church of Northwest Arkansas, he served as an elder, an usher and a leader of numerous community groups. He loved to study the Bible and attended Bible Study Fellowship. Charlie believed the Bible and faithfully lived Romans 8:28, and to summarize in his words "nothing happens in the life of a believer that God can't use for good."
Charlie is survived by his wife Frances, sons Bart Sego (wife Gena) of Bentonville, Ark. Ted Sego (wife Andrea) of Fayetteville, and Jay Sego (wife Sarah) of Alexandria, Va.; his mother Virginia (Honey) Sego of Fayetteville; brother, Steve Sego of Bloomington, Ind.; cousins Barbara Walker (husband Bevy) and Pixie Moore of Nashville, Tenn., grandchildren, Taylor Sego, Kate Sego, Brooks Sego and Elizabeth Sego, all of Fayetteville, and Luke Lindsay Sego and Grace-Ann Sego of Alexandria, Va.
A memorial service will be on Thursday, October 17, at 10 a.m. at Fellowship Fayetteville, 3447 N. Hwy. 112, Fayetteville. Visitation will be from 4 to 6 p.m. Wednesday, October 16, at Nelson-Berna Funeral Home, 4520 N Crossover Rd., Fayetteville. In lieu of flowers, the family requests donations in memory of Charles Sego to Fellowship Bible Church of Northwest Arkansas or to the WRMC Willard Walker Hospice Home in Fayetteville. To sign the online guestbook please visit www.nelsonberna.com.
Published October 15, 2019
OBITUARY SUBMITTED BY:
Nelson-Berna Funeral Home and Crematory
4520 North Crossover Road, P.O. Box 8982, Fayetteville, AR
Phone: 479-521-5000
http://www.nelsonberna.com