Mai Kathryn Patterson Clemons
of Little Rock, AR, 1930 - 2019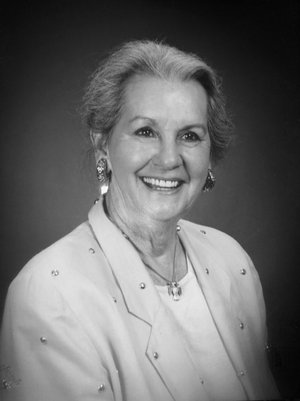 Mai Kathryn Patterson Clemons, 89, of Little Rock, arrived in the arms of God on Saturday, October 12, 2019. Mai was born in Clinton, Arkansas January 18, 1930. She graduated from Clinton High School and also attended Edison High School in Ft. Myers Florida, where they spent winter seasons. She then attended Arkansas Tech in Russellville.
She is survived by her daughter, Rebecca Jane (Becky) Hughes of Little Rock, and son Charles K. (Bud) Hughes (Janet) of Houston, Texas. Mai was blessed with three grandchildren, Kyle Hestes, (A'na), Chase Hughes, and Holly Fish (Jeff), eight great-grandchildren and many nieces and nephews who dearly loved her. Also grieving is her faithful canine companion, Buddy. She was preceded in death by her husband, A.C. Clemons, parents Augustus Patterson and Margaret Whillock Patterson, and her brother Bill Patterson and sister Betty Smith.
After attending college, she married C.K "Buddy" Hughes, father of her 2 children, settling in Little Rock and eventually the family moved to Hot Springs.
Mai later married A.C. and lived in Houston for over 30 years. They enjoyed entertaining and traveling, especially their annual extended vacations in Palm Springs, Acapulco, and Old Baldy Club in Wyoming. She cherished her dear friends and golfing buddies at River Oaks Country Club in Houston and was active in the City of Houston Golf Charities organization and was a frequent participant in local golf competitions.
Mai returned to Little Rock 15 years ago to be near Becky and her grandchildren and great-grandchildren. She rejoined St. Paul Methodist where they had belonged when she started her family in Cammack Village. She reconnected with her sister Betty, and her nieces and nephews including many of her old friends. As a project, Mai bought her mother's childhood home in Clinton and started a rehabilitation project on that home, which rejuvenated her spirit and reconnected her with joyful childhood memories and to her mother's roots as well. It was a wonderfully rewarding project, far beyond what she had imagined.
Her faith and daily walk with God sustained her; she loved participating in and decorating the meeting hall for the monthly St. Paul United Methodist Womens' Group.
Mai's children, extended family and friends were the joy of her life. She was an avid gardener, hunter, nature-lover and was a very competitive golfer. Full of joy and laughter, her fun-loving spirit, and beautiful smile will remain with all who knew and loved her. She loved her country and was a proud American and a member of Maria Van Buren Chapter DAR.
A private family memorial service and burial will take place in her childhood hometown in Clinton, Arkansas on Wednesday, October 16, 2019. Memorials may be made to St. Paul Methodist Church, 2223 Durwood Road, Little Rock, Ark. 72207.
Published October 15, 2019
OBITUARY SUBMITTED BY:
Roller McNutt Funeral Home
P.O. Box 177, 1902 Hwy 65 South, Clinton, AR
E-mail: mcclurec@rollerfuneralhomes.com
Phone: 501-745-5121
http://www.rollerfuneralhomes.com/