Jean Brown Ripling
of Little Rock, AR, 1923 - 2019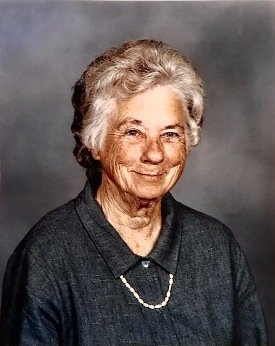 Jean Brown Ripling, 95, died October 20 at the Hospice Comfort Care Center, after a brief illness. She was born October 22, 1923 in a log cabin in the "Y" community of Cleveland County. Her parents were Inez Cochran and Charles Brown. They both died while she was still a schoolgirl, and she was raised by the most loving aunt imaginable, Beatrice Cochran Blair. She had two sisters and a cousin who was raised as her sister. They all preceded her in death: Jennie Violet Brown, Josie Brown King, and Janie Blair Mulligan.
Upon graduation from Pine Bluff High School in 1942, Jean enrolled in the Baptist Memorial Hospital School of Nursing in Memphis, Tennessee. Immediately after completing her nurse's training, she joined the Army Nurse Corps, serving both stateside and on medical ship duty. She made 17 transatlantic crossings on the Jarrett M. Huddleston, a WWII era Liberty ship. After her discharge from the army, she enrolled in Tulane University and received a Bachelor of Science Degree in nursing.
As a member of the inactive reserves, she was recalled to active duty during the Korean conflict. Her first post was at Camp Polk, Louisiana. It was there that she met William John Ripling Jr., a lieutenant in the armored cavalry. When they met, he was a patient at the Camp hospital. By the time he was discharged by the hospital, they were engaged and were soon to be married. At this point, she already had orders to go to Germany to work in an army hospital there. Bill transferred to a Germany-bound unit, and joined her. Their married life, which began in Germany, lasted 50 years. Bill died at home in Rison, on Jean's birthday in 2002.
After she left the Army, Jean never worked in a hospital again but she continued her nursing career for decades. She worked in various nursing homes and was an in-home service director for the Area Agency on Aging, which provides home health care to the elderly. In the 1960's, when the family lived in Idaho, she taught anatomy and physiology at Saint Alphonse School of Nursing.
A life-long passion for gardening led her to enroll in Boise State University to study horticulture and later to become a master gardener. In her later years, she devoted herself to maintaining the gardens at her beloved church, Trinity Episcopal in Pine Bluff.
The greatest joy of her life was her family. Due to her parents' early deaths, she never expected to live to see her grandchildren grow up, but she did. She was able to attend the weddings of all three of her grandchildren and to see them all become kind, responsible adults. One of her greatest joys was the birth of her first great-grandchild.
She is survived by so many who were dear to her and to whom she was precious: her daughters, Melissa Ripling Guldin, and Janet Ripling Moore; her sons-in-law, James Guldin, and Ira Moore; her grandchildren William John Ripling Guldin and Megan Berlin, Allison Moore-Peace and David Peace, Rachel Moore and Juan Davey; and her great-granddaughter Lydia Guldin. She also leaves behind beloved friends John Rayford and Jason Kahler, both of whom helped her to maintain the independent life she loved.
A memorial service will be held 10 a.m., Wednesday, November 27 at Trinity Episcopal Church in Pine Bluff, Arkansas. For anyone wishing to make a memorial donation, her favorite charities were Trinity Episcopal Church, 703 W. 3rd Ave., Pine Bluff, Ark. 71601; and The Humane Society of Pulaski County, 1460 Colonel Glenn Rd., Little Rock, Ark. 72210. Arrangements are by Ruebel Funeral Home, www.ruebelfuneralhome.com.
Published October 23, 2019
OBITUARY SUBMITTED BY:
Ruebel Funeral Home
6313 West Markham Street, Little Rock, AR
Phone: 501-666-0123
http://www.ruebelfuneralhome.com