Polly Riley Carpenter
Russellville, AR, 1924 - 2019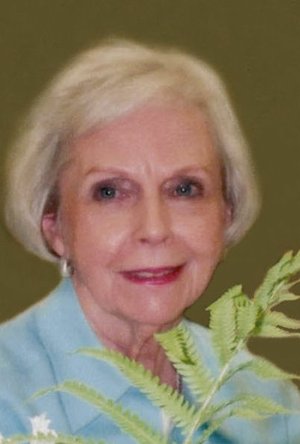 Polly Riley Carpenter, age 95, of Russellville went to be with our Lord Friday, October 18, 2019. Born in Hamburg on June 25, 1924, to Reverend and Mrs. Simpson E. Powell.
She was an active member of First Baptist Church for over 60 years and a past auxiliary member of Gideons International. She loved being a wife, mother, grandmother, great-grandmother and loved spending time with family and friends but her greatest love was her Lord and Savior Jesus Christ.
In addition to her parents she was preceded in death by her husbands, George G. Riley and Jack Carpenter; two brothers; two sisters; and step-son, Jack H. Carpenter Jr. Left to cherish her memories are her sister, Edith Watson; cousins, Jeanette Morrison and Bill Hatfield (Sarah); special friends, Jim and Beverly Lanier and Darla and Carol Bowden; daughters, Lynne Tiner (Bobby), Beth Swindle (Mike), Susie Gotcher (Dickie), Lisa Atkins (Jim); son, Ben Capenter (Debbie); daughter-in-law, Camille Carpenter; 16 grandchildren, Michael Swindle (Paula), Amanda Jett (Phillip), Riley Swindle (Mary), Shane Middlebrooks (Kelly), Emily Heard (Daniel), Mark Gotcher (Charisa), Todd Gotcher (Brandi), Bryan Gother (Kristi), Lynn Tiner (Amanda), Natalie Goldsly (Tal), Jackson Carptener lll, Lori Davidson (Paul), Jonathan Carpenter (Kim), Benjamin Carpenter (Erin), Dr. Justin Atkins (Natalie), Allyson Tullos (Steven); and 42 great-grandchildren.
The memorial service will be at 2 p.m., Thursday, October 24, 2019, at First Baptist Church in Russellville with Dr. Stephen Davis and Rev. Greg Sykes officiating. Burial will be private in Rest Haven Memorial Park and under the direction of Shinn Funeral Service of Russellville. The family will receive friends immediately following the service at the church. Memorials may be made to Gideons International-Russellville Camp, Post Office Box 1604, Russellville, Arkansas 72811-1604 or to First Baptist Church Building Fund, Post Office Box 36, Russellville, Arkansas 72811-0036. The online obituary and guestbook are available at www.shinnfuneral.com.
Published October 23, 2019
OBITUARY SUBMITTED BY:
Shinn Funeral Service
800 West Main Street, P.O. Box 700, Russellville, AR
Phone: 479-968-1212
http://www.shinnfuneral.com