Cora Ammons
of Little Rock, AR, 1927 - 2019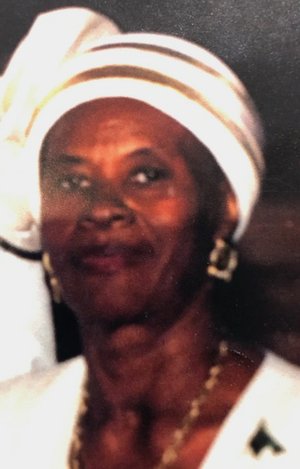 Cora Ammons, 92, passed away Saturday, October 19, 2019. She was born May 6th, 1927 to Henry and Lizzie Andrews in Evergreen, Alabama. She married James Ammons on September 18, 1947 in Evergreen, Alabama. Soon afterwards, the couple relocated to Omaha, Nebraska with her husband and her three children, Minnie, Willie Ralph and Peggy. She spent over 30 years in Omaha, Nebraska raising her kids, eventually helping raise her grandkids and supporting her large, extended family. During this time, she was a devoted and active member of Mount Moriah Baptist Church, serving in various capacities, which was something she was devotedly passionate about. In the early 90's, she relocated to Little Rock, Arkansas to remain close to her children and grandchildren, where she would continue to reside for over 30 years until her recent passing.
She was preceded in death by her husband, James Ammons and her daughters Peggy Ammons and Minnie (Ammons) Thompson. She is survived by two sons, Willie Ammons, Little Rock, Ark. and Willie Frank (Lois) Bradley, Murphysboro, Tenn., and seven grandchildren, Dana Ammons, Nnamdi Thompson, Fredrick Bradley, Cameroun Thompson, Willie Frank Bradley, Aron Thompson and Mikala Ammons. She also leaves five great-grandchildren; Jordan Ammons, Dana Ammons Jr., Azana Ammons, Nehemiah Thompson, Axton Thompson and a host of nieces, nephews, cousins, friends and family.
Wake services will be held at Ruffin Jarrett Funeral Home,1200 S Chester St., Little Rock, Ark. 72202 on Friday, October 25th, 2019 at 6 p.m. til 8 p.m. Homegoing services will also be held at Ruffin Jarrett Funeral Home, 1200 S Chester St., Little Rock, Ark. 72202 on Saturday, October 26th, 2019 at 11 a.m. Repast services will be held immediately afterwards at First Baptist Church Highland Park, located at 1701 S Pine St., Little Rock, Ark. 72204. Interment is Monday, October 28, 2019 at Elmlawn Cemetery, 5900 W. 12th Street, Little Rock, Ark.
Published October 25, 2019
OBITUARY SUBMITTED BY:
Ruffin & Jarrett
1200 Chester Street, Little Rock, AR
E-mail: mmulford@arkansasonline.com
Phone: 501-372-1305