L.J. Carter
of Little Rock, AR, 1928 - 2019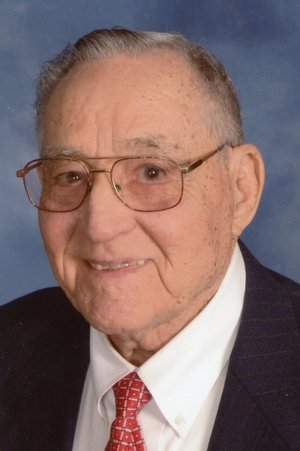 L.J. CARTER, 90-years-old, of Little Rock, Ark. passed away peacefully on Friday, October 25, 2019. He was born in Patterson, Ark. on November 7, 1928 to Jim and Liddie Carter. He married the love of his life, Maylene Hagan Carter, in 1954. He dedicated his life to Christ and was a member of Little Rock First Baptist Church for 65 years where he served in various capacities. He served in the Army during World War II while being stationed in Phoenixville, Pa. L.J. was a retired respiratory therapist at the V.A. Hospital, and was a Mason and a Shriner. L.J. spent his life cheering on his beloved University of Arkansas Razorbacks, playing golf, and supporting the Southern Baptist Seminary in Louisville, Ky.
He is preceded in death by his mother and father; two brothers, Jimmy Carter and Carnell Carter, and his daughter, Kay Carter Dorsey. He is survived by his wife of 65 years, Maylene Hagan Carter; daughter, Tara Carter Kelley (Kevin Kelley) of Kingsville, Mo.; five grandchildren: Eric Dorsey (Ronni) of Hot Springs, Ark., Chari Kelley Lauderdale (Dustin) of Lee's Summit, Mo., Cody Dorsey (Cortni) of Hot Springs, Ark., Shayla Kelley of Pleasant Hill, Mo., and Gracen Kelley Miller (Derek) of Little Rock, Ark.; seven great-grandchildren, nephew Jerry Carter of Nampa, Idaho, and nieces Frances McPherson of Apple Valley, Calif. and Carlene Garten of Idaho Falls, Idaho.
Funeral Services will be held Wednesday, October 30, 2019. The graveside service with military honors will be held at Forrest Hills Cemetery in Alexander, Ark. at 10 a.m. A celebration of life service will follow at Little Rock First Baptist Church at 11:30 a.m. with a visitation following. Memorials can be made to Little Rock First Baptist Church or Louisville Southern Baptist Seminary, Foundation Board: 2525 Lexington Rd., Louisville, Ky. 40280. Online guestbook: www.rollerfuneralhomes.com/chenal.
Published October 29, 2019
OBITUARY SUBMITTED BY:
Roller-Chenal Funeral Home
13801 Chenal Parkway, Little Rock, AR
Phone: 501-224-8300
http://www.rollerfuneralhomes.com/chenal