Megan Glenn Augustine
Asheville, NC, 1969 - 2019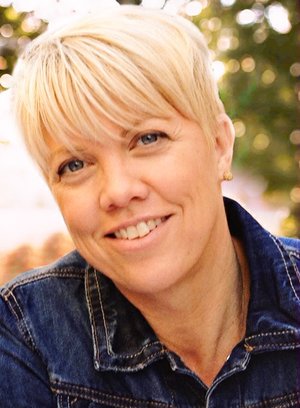 Megan Glenn Augustine died Wednesday, October 23, 2019, in Asheville, N.C. She was born on September 18, 1969 in Bristol, Pa., to Edward Alexander Budney (now deceased) and Glenn Ellen Downie. In addition to her mother, she is survived by her brother Edward Blake Budney, his wife Ruth and their young son Tillar Glenn Budney of Asheville, N.C., and her brother William Alexander Budney of Brooklyn, N.Y.
Megan grew up in Little Rock where she attended Arkansas public schools before finishing high school at The Berkshire School in Sheffield, Mass. From there she traveled south to San Antonio, earning a Bachelor of Arts degree from Trinity University. While at Trinity she met her future husband Jim Augustine. They were married for four years before parting ways amicably.
Megan immersed herself in San Antonio culture, embracing the diverse population and celebrating the unique art, food, and architecture of the city where she always felt most at home. She had varied interests and talents that led her to multiple careers, from advertising work, to training quarter horses, and eventually to starting a successful public relations firm. She stayed very involved in the community, volunteering as a reading coach for young children in disadvantaged schools, performing active service work for Alcoholics Anonymous, and utilizing her PR skills pro bono to promote and support local artists in her free time. Megan never met a stranger, had an infectious sense of humor, and made countless friends and connections of all ages, races, and backgrounds.
After battling an undiagnosed and disabling disease, Megan moved to Asheville, NC, to be closer to her brother Blake and his family. She lived just a few doors away on a beautiful lake and would often be found paddling around in her canoe enjoying the abundant wildlife, a particular love of hers. She fed the birds at her window, as well as the occasional black bear (a source of good-humored debate among the family, but Megan always did things her way). She began painting during her illness and found an impressive outlet for her creativity. She was a smart, inquisitive, compassionate person who fought her illness with genuine curiosity and a fiery intensity that defined her personality.
A family burial will take place in Little Rock. Memorial gifts can be sent to the National Organization for Rare Disorders (rarediseases.org) or Appalachian Bear Rescue (appalachianbearrescue.org). Condolences can be made to the family at www.ashevilleareaalternative.com.
Published October 29, 2019