Paul Gene Wisley
Fort Smith , AR, 1939 - 2019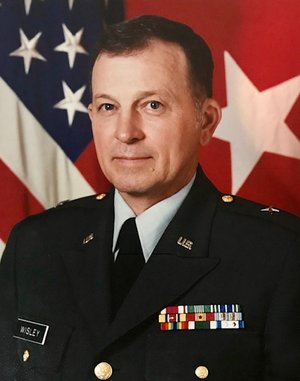 BG (Ret.) Paul Gene Wisley, age 79, passed away on Sunday, October 27, 2019, at Mercy Hospital in Fort Smith, Arkansas.
Paul Gene was born in Golden City, Arkansas on November 29, 1939. From a young age, he enjoyed working on the family farm, which he would tend well into his 70s. Before entering elementary school, Paul Gene was already milking cows with his big sister Wanda. By the time he finished elementary school, he had already logged many an hour on the tractor. He became as fine a cattleman as ever lived. No one has ever taken better care of their herd. He would search day and night until he found each cow gone off to calve. He truly loved the farm and it gave him great joy throughout his entire life.
At the young age of 15, he managed to enlist as a private in the Arkansas Army National Guard. His first job outside the farm was pumping gas and changing flats at Littlefield's service station. He graduated from Booneville High School in 1958 and obtained his Bachelors of Science in Agriculture from the University of Arkansas in 1962.
Upon graduation, Paul was commissioned into the Army as a second lieutenant and stationed at Fort Sam Houston, Texas. After completing his active duty service in 1965, he returned to Booneville to care for the family farm which his father had left behind. He continued his service in the National Guard; fulfilling assignments in various capacities. In 1993, he was promoted to the rank of Brigadier General and served as Deputy Commander at Camp Robinson in North Little Rock until his retirement in March of 1999.
In his 42 year military career, Paul Gene was awarded the Legion of Merit, Meritorious Service Medal, Army Commendation Medal, Army Achievement Medal, Army Reserve Component Achievement Medal (with 1 Silver Oak Leaf Cluster), National Defense Service Medal (with 1 Bronze Service Star) and Arkansas Distinguished Service Medal.
He also owned and operated Wisley's Clothiers on Broadway Avenue in Booneville for 20 years. He was a member of Cumberland Presbyterian Church.
Paul Gene was preceded in death by his parents, Lester and Neutie Wisley, his brothers, Jesse and Junior and a grandson, James Paul Majors. He is survived by his beloved wife and best friend Kathy, daughters, Rebecca Cobb (Bobby) and Melissa Buhl (Michael), step-daughter Sarah Vanpool (Jesse), son Josh (Ella), sister Wanda Pollock (Don), seven grandchildren; Matt, Elizabeth, Hallie, Noah, Riley, Kate and Maggie, and three great-grandchildren; Trenton, Olivia and Nora.
The family wishes to extend their heartfelt thanks to the many doctors and nurses who cared for Paul Gene during his illness. Specifically, Dr. Donald Shows, Dr. Michael Coleman Jr. and all of the staff at the Fort Smith Dialysis Clinic.
Visitation will be held Friday, November 1, from 5 p.m.-7 p.m. at Roberts Funeral Home in Booneville, Arkansas. A celebration of Paul Gene's life will be held Saturday, November 2, at 11 a.m. at Booneville First Baptist Church with burial following at Carolan Cemetery. www.robertsfh.com.
Published October 30, 2019